By Ferdinand Patinio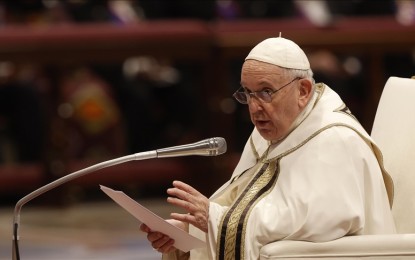 MANILA – Filipino faithful have been requested to pray for the immediate recovery of Pope Francis, who is in the hospital for respiratory infections.
"Let us pray for Pope Francis as he undergoes treatment at the Gemelli Hospital here in Rome for respiratory infections (not Covid). He expresses his gratitude to all of us for our prayers and closeness with him in spirit," Fr. Greg Gaston, rector of the Pontificio Collegio Filippino in Rome, said in a message sent to Church-run Radio Veritas on Thursday.
The Vatican clarified that although he has been experiencing breathing difficulties, Pope Francis' illness is not caused by the coronavirus disease 2019.
"At a young age, even before he became a priest, the Holy Pope had one of his lungs removed due to a lung infection because he was susceptible to disease. In the Vatican statement, the Holy Pope extends his gratitude to all those who prayed for his speedy recovery," Holy See spokesperson Matteo Bruni said.
"Pope Francis is touched by the many messages received and expresses his gratitude for the closeness and prayer."
Papal nuncio Archbishop Charles Brown, likewise, urged the faithful to include the pontiff in their prayers this Holy Week.
"I want to ask each everyone of you to pray in a special way during Holy Week for Pope Francis. As I am speaking to you this morning here in Apostolic nunciature, I've just received word that he has just been taken to the hospital. God willing there's nothing too serious but we need to pray for Pope Francis," he said in a video message posted on the Catholic Bishops' Conference of the Philippines (CBCP) news website.
"This is the tenth time that the pope will celebrate Easter in Rome as our Holy Father. I ask you, please, during this special time, to pray for Pope Francis, pray for his good health and his speedy recovery," added the Vatican Representative to the Philippines.
In July 2021, the pontiff underwent colon surgery.
He has also been suffering from excessive knee pain that he often uses a cane and a wheelchair.
Pope Francis is expected to celebrate Masses in Rome on Palm Sunday on April 2 and Easter Sunday on April 9. (PNA)