By Jean Malanum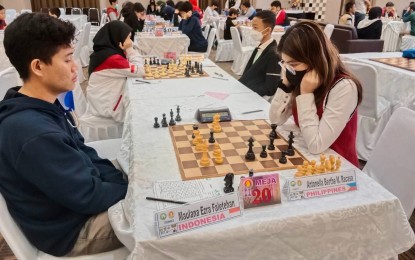 MANILA – Woman National Master Antonella Berthe "Tonelle" Racasa finished third in the BKD Fide Rated International Open Chess Tournament Under 21 at the Gunadarma University Karawaci in Tangerang-Indonesia on Sunday.
Racasa finished the nine-round Swiss system event with 6.0 points, creating a five-way tie for first place. But after the tiebreaks were applied, she ranked third behind locals Angkouw Isaura Petra Maria and Lasama Ivana Maria Treopolsa.
Indonesians Carissa Vioren and Nabila Aulia Putri finished fourth and fifth, respectively.
"I am happy, considering this is my first international tournament after two years," said the 15-year-old Racasa in an online interview on Monday.
She defeated Tedisyah Arya Muhammad, Revalina Trianastasya, Davin Belmiro Azfar, Martogi Imanuel and Maulana Ezra Faletehan. Her matches against Kevin Theofilus Andreas and Hanun Nafisah ended in draw. She also had two losses coming from Nathanael Dieudonne B Simanihuruk and Rizky Akbar Muhammad.
Last December, she won the silver medal in the blitz category at the Batang Pinoy National Championships held in Vigan, Ilocos Sur.
"I am looking forward to compete in more tournaments this year," said Racasa, a student from Victory Christian International School.
She is planning to join the World School Chess Championships set on April 13-23 in Rhodes, Greece and the World Youth Championships on Nov. 12-25 in Montesilvano, Italy.
Meanwhile, the top three winners in the boys' division were all Indonesians. Syafiuddin Raden and top seed Dziththauly Ramadhan had identical 8.0 points but Raden prevailed with a superior tiebreak. Stevanky settled for third place with 7.5 points. (PNA)