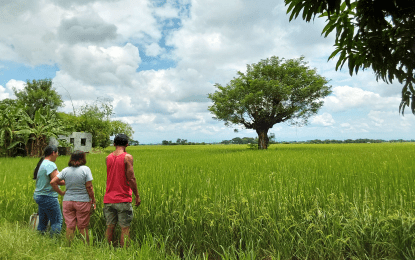 MANILA – From a high of PHP22 to PHP25 a kilo in June and July, the onset of harvest in Nueva Ecija in early September had been showing declining trends in palay farmgate prices, which might drop even more when harvest peaks in late September and October.
A field survey done by the National Rice Program in several towns of Nueva Ecija this week showed prices declining for fresh palay up to PHP17 and PHP18 a kilo, which farmers said might drop to as low as PHP16 or PHP15 when harvest for the wet season crops begins to peak by mid September.
According to a Department of Agriculture (DA) news release on Sunday, farmers are appealing to President Ferdinand R. Marcos Jr. to intervene so that they would get better rates for their produce and not be at the mercy of prices to be dictated by the traders, agents and millers.
They lamented that their production had been substantially decimated by the recent prolonged downpour caused by the typhoon and southwest monsoon or "habagat", resulting in many of their standing crops bending to the soil, making them irrecoverable.
But for some who harvested earlier, they were able to benefit from the high prices from their palay and did not suffer losses unlike the majority who would be harvesting in the coming weeks.
Heavily affected by the prolonged downpour from "habagat" and typhoons, were the farms in Licab, Quezon and Zaragoza towns, an inspection done by the Department of Agriculture National Rice Program showed.
Most of the Nueva Ecija farmers interviewed said they were saddened by the abrupt decline in palay farmgate prices from about PHP22 to PHP24 in late August to just PHP16 to PHP17 a kilo now.
They said aside from the downpours, another factor that led to the sudden decline in palay prices was the imposition of price cap on Sept. 5.
"We're afraid that traders, millers, and other merchants would buy our harvest at a uniform lower price," they said.
Many farms in Nueva Ecija are beginning to harvest their wet season crop, which is expected to peak by mid September until late October.
The National Food Authority (NFA) does not buy fresh palay but only those with moisture content of 14.1 to 30 percent, clean and dry, which it pays for PHP19 per kilo.
During the field interview, the farmers, a seed grower and members of a farm coop in Aliaga, Quezon and Licab, all in Nueva Ecija, also suggested that if rice vendors of Metro Manila are to be given subsidy for what they claim as "losses" for selling stocks they bought at high prices but which they must sell at PHP41 for regular milled and PHP45 for well milled, then they, too, should be given subsidies for the losses they have suffered from the reduced price ceilings of rice which caused palay prices to tumble down.
They also appealed to the President to order NFA to buy fresh (wet) palay at the farmgate level, which traders have been cornering, leaving them with no choice but to sell their wet palay at a loss.
With the recent prolonged rains from "habagat", farmer Servillano Yabut, also director of the Farmer Business Service Cooperative of Aliaga, said he expects to harvest only 60 to 70 percent of their planted palay with an average yield of 130 cavans per hectare and rice recovery of only 65 cavans.
Five years ago, Marcelo Tudayan, also of Aliaga town, sold his palay at the farmgate for as high as PHP22.50 but now he said he would be lucky to sell at PHP17 a kilo.
He said back then, the cost of inputs was low which enabled them to still earn amply but now that the cost of all inputs, principally fertilizers, have soared, he does not expect to earn any.
The cost of petrochemical fertilizers soared with the global price hikes for oil as a result of the two-year old war in Ukraine and the worldwide disruptions in the supply chain because of the pandemic.
During the dry season crop of 2023, the top five production areas of Nueva Ecija were Guimba with 124,943.56 metric tons (MT); San Antonio with 112, 126.97 MT; Munoz with 85,947.21 MT; Talavera with 72,681.60 MT; and Gapan with 67,265.69 MT.
But in terms of yield per hectare during the dry season crop, the top five local government units (LGUs) were: Munoz with 9.5 MT; San Antonio, 9.2 MT; Sto. Domingo, 8.89 MY; Jaen, 8.55 MT; and Sta. Rosa, 8.44 MT.
These LGUs will start the wet season harvest by mid September to October. But few harvests have already been made at Aliaga and parts of Quezon and Licab.
The Masagana Rice Industry Development Program targets to raise farmers income through better yielding seed varieties (both inbred and hybrid) and increasing their savings from production costs through a cocktail of fertilizers (organic, biofertilizer and chemical nutrients) and linking them with potential buyers and credit facilities. (PNA)