By Ferdinand Patinio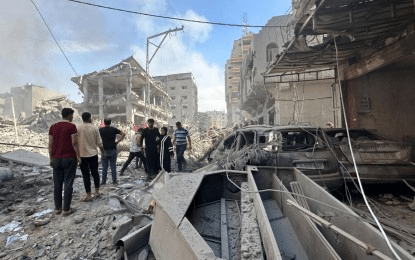 MANILA – The Archdiocese of Manila on Monday urged the faithful to join the day of fasting and prayer on Oct. 27 amid the ongoing conflict between Israeli troops and Palestinian militant group Hamas.
Vice Chancellor Fr. Carmelo Arada Jr. appealed to communities to pray for peace to reign in areas affected the war.
"We encourage our communities to organize prayer initiatives for this intention like the Mass for Peace, Adoration of the Blessed Sacrament/Holy Hour, the praying of the holy rosary, or any other celebrations of the Word of God," he said in Circular No. 2023-85.
The issuance of the circular is in response to Pope Francis' call for churches to designate Oct. 27 as a day of prayer, fasting and penance for peace.
The Pope also encouraged people of different Christian denominations, other religions and all those who advocate for peace, to participate in the event as they see fit.
The conflict in Israel broke out after Hamas launched an offensive attack on Oct. 7, which has claimed at least 6,000 lives and displaced over 1 million individuals. (PNA)