Explore two outdoor sites in Pampanga
MANILA, Philippines — Many are bracing for the hot days ahead, as well as finding ways on how to have fun under the sun.
These days, however, summer is not all about hitting the beach or going to pool parties anymore. With the growing interest on outdoor adventures and activities, many Filipinos take the opportunity to trek, hike or climb Philippine mountains during the dry season.
While Rizal province is the go-to destination for dayhikes thanks to the magnificent Sierra Madre Mountain Range, young mountaineering enthusiasts are encouraged to explore provinces just outside of Metro Manila.
Pampanga is one.
Located in Central Luzon, Pampanga serves as one of the tri-point boundaries of Mt. Pinatubo, which carved new landscapes in areas where lahar flowed during its 1991 eruption.
Unexpectedly, a trip to Clark Freeport and Special Economic Zone in Angeles City can show the beauty created from destruction in the past.
A hike at Mt. Balakbak
Found inside Clark's Green Canyon Eco Art Resort is Mt. Balakbak that requires just a minor trek to reach its summit. It is best to start at 4 a.m. to catch the sunrise at its peak.
With an estimated elevation of 300 MASL (meters above sea level), Mt. Balakbak has a wide trail lined by a foliage of cogon grass and sporadic trees. The ascent is mild, so even kids can be brought along the hike. It takes only one hour to summit.
At dawn, the air is cool and the ambiance is calm — enough to make one forget about darkness. As hikers get higher, they can start to glimpse the light creeping in the horizon, signaling sunrise.
Mt. Balakbak has a wide trail lined by a foliage of cogon grass and sporadic trees. The ascent is mild, so even kids can be brought along the hike. Photo Release
On a clear day, a golden orb can be seen blazing over the lahar flows in provinces of Pampanga and Tarlac. Mt. Arayat can also be seen from a distance.
Rest while savoring this view. Perhaps, enjoy packed breakfast and replenish the body with lots of water.
When going down, take time to appreciate the trail, which glows during the golden hour.
Trek to Haduan Falls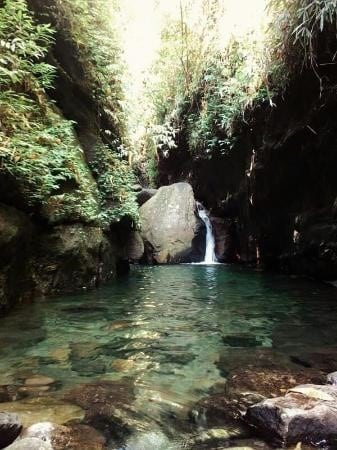 Because it is summer, the lahar's heat is heightened, so trekking to Haduan Falls is also best done in the morning. Also make sure to secure local guides who know the trail.
The trek starts by crossing a hanging bridge that opens up to views of mountain ranges and an expansive lahar flows below.
A 30-minute trek on a dirt road ensues. The soil and the fauna are both dry, and coupled with hot temperature, so the first part of the trail can be a little draining.
But worry not because the riverbed trail follows shortly. The temperature decreases because this trail is covered by big trees.
To reach Haduan Falls, one must follow the river where it flows to. Summer is really the best time to do this because the water is less and weaker in the river.
Nevertheless, expect to get wet on some parts of the riverbed trail, which can take an hour to finish.
Hikers also need to go past a steep ascent, but beyond this, the waterfalls await. This trek may be more challenging but the reward is worth it.
Take a dip in the cool, natural pool and have a shower from Haduan Falls itself.
Know what to bring
When going on new adventures in the outdoors, it is equally important to bring essentials that will facilitate a more enjoyable and smoother experience. These are:
1. Sun protection
In the city, individuals are told to watch out for heat stroke. This may also be possible in the outdoors, especially when trails are exposed to direct heat from the sun.
As such, hikers need protection from the sun. Bring caps and sunglasses, as well as sunscreen to avoid sunburn.
2. The right outdoor pack
Also needed is a pack that can carry these essentials. Doughnut's bag styles are functional and versatile, making them easy to bring everywhere, especially for the outdoors.
Durable and water-repellant, the bags come with built-in organizers, to separate stuff inside; pockets on the inside and outside to easily access items; and unique, handy features like straps and buckles where tents or sleeping mats can be latched.
3. Quick and easy snacks
Sometimes, it is hard to start a trek with a full tummy. But then, one may get hungry along the trail.
Snacks like power bars, trail mixes, and boiled food like banana and sweet potato are the best trail food that can provide just enough energy.
4. Hydration This needs no explanation. Bring lots of water to keep the body hydrated. Sports drink can also help, as well as oral rehydration salts in case of emergency. (Philstar.com)