By Wilnard Bacelonia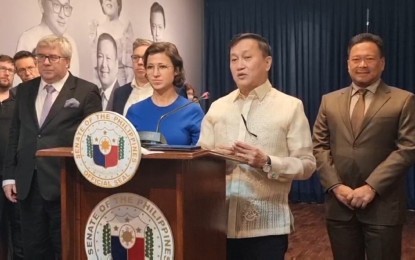 MANILA – Both the European Parliament Subcommittee on Human Rights (EP-DROI) and Senator Francis Tolentino, representing the Senate, on Wednesday expressed the intent to move forward into more constructive engagements.
EP-DROI Vice Chairperson Hannah Neumann said they were very relieved to hear from the senators that the country is working to focus more towards the rehabilitation and prevention of human rights violations.
"We have also discussed other issues on human rights and I think it has been fruitful and constructive meeting that makes (us) believe that we are moving towards a more constructive engagement for the future," Neumann told Senate reporters.
Meanwhile, Tolentino expressed hope that the fruitful dialogue would eventually lead to a richer economic partnership.
"We've discussed a lot of issues concerning the entire universe of human rights issues. Moving forward, we look at the revitalization, extension of the GSP (Generalized Scheme of Preferences) Plus Agreement, which will expire on Dec. 31 of this year," Tolentino said.
The GSP Plus is structured as an incentive arrangement that grants the Philippines zero tariffs on 6,274 products or 66 percent of all EU tariff lines in exchange for complying with 27 international conventions on labor, human rights, governance, and the environment.
The Philippines has been the only ASEAN country to benefit from the EU-GSP Plus since 2014.
The 'intense' part
On the other hand, Senator Ronald dela Rosa, who was also present during the dialogue, apologized for being late to the Senate Special Committee on Marawi City Rehabilitation and Victims' Compensation and its guests, saying he just came from an "intense" discussion with the Spanish representative of the EP-DROI.
"I would like to apologize for my late arrival because I have just attended the meeting with the members of the EU (European Union) Parliament and the discussion was so intense that I cannot leave. I have to defend our sovereignty. These Europeans, they are trying to impose their standards upon us," dela Rosa shared.
"There was one EU Parliament member from Spain, nagalit siya dahil bakit daw si Senator (Jinggoy) Estrada ay nag-author ng (he was angry, questioning why Senator Estrada authored [a]) resolution protecting former President (Rodrigo) Duterte from ICC (International Criminal Court) investigation. Nag-react siya. Medyo tumaas yung boses niya (He reacted. The tone of his voice was quite high)," he said.
Estrada, as well as Senator Robinhood Padilla, recently filed separate resolutions expressing the Senate's strong opposition to the decision of the ICC to resume its investigation into alleged crimes against humanity related to the Duterte administration's war on drugs.
Dela Rosa said the Spanish delegate questioning Estrada's measure made him remind the latter that the EU and other countries should not interfere with the "working" justice system of the Philippines.
"Sinagot ko naman siya (I answered him). I told him, 'You know my good friend honorable Spaniard, you know the Philippines was conquered, held, enslaved by the Spaniards for more than three centuries, for over 300 years. And now that we have gained our freedom, we have our own sovereignty as a nation, we hope that other countries would respect our sovereignty as a nation,'" he said.
Padilla, who arrived in the dialogue later, commended dela Rosa's action clarifying that the senators have no intention to start any dispute with the EU.
"Ang sa akin lang, gusto ko sanang sabihin (For me, I just want to say that) before you put your fingers and your mouth here and nose, I think you have to think about the Ukranian crisis first. Don't bark on our tree. You have your own tree. Yun sana ang sasabihin ko (That is what I would have said)," he said.
Neumann admitted to Senate reporters that the exchange happened.
"I would say it was more tense. But it was open and critical discussion that in the end, I think, [it] was more constructive than tense," she said.
The EP-DROI delegation, led by six members of the European Parliament, will be in Manila until Feb. 24 after the Philippines accepted its request.
According to the Department of Foreign Affairs, the EP DROI visits several countries yearly as part of its core duties. (PNA)