By Filane Mikee Cervantes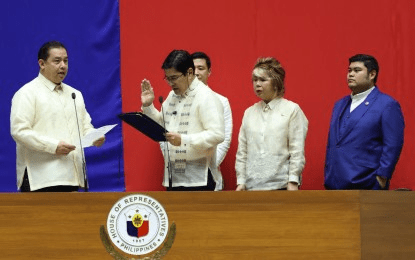 MANILA – Former Social Welfare Secretary Erwin Tulfo on Monday formally took his oath as the new representative of the Anti-Crime and Terrorism Community Involvement and Support (ACT-CIS) party-list at the House of Representatives.
House Speaker Martin Romualdez administered the oath of Tulfo, replacing former representative Jeffrey Soriano who vacated his post in February this year.
This development comes after the Commission on Elections (Comelec) issued a certificate of proclamation to Tulfo as the third nominee of ACT-CIS party-list.
It can be recalled that ACT-CIS won three House seats after gathering over 2.1 million votes in the May 2022 elections.
Despite the motion to disqualify Tulfo, the Comelec earlier ruled to allow Tulfo to become a replacement nominee for the ACT-CIS party-list in Congress.
The Comelec said it found "no compelling reason to reverse or to modify" the second division's verdict.
Tulfo expressed his gratitude to the House of Representatives, particularly Romualdez, for the warm welcome, as he assured his full support to the current leadership.
"I am sending my full support to the current leadership in Congress particularly for their dedication to advancing important legislation. The current leadership in Congress are essential for the progress and well-being of our nation," Tulfo said.
Tulfo said his representation will place a strong emphasis on advocating for the poor, marginalized and vulnerable through empowering education and accessible healthcare.
Tulfo also vowed to prioritize his support on inclusive policies, equal opportunities and social safety nets that can address the socioeconomic disparities to create a more equitable nation. (PNA)