By Raymond Carl Dela Cruz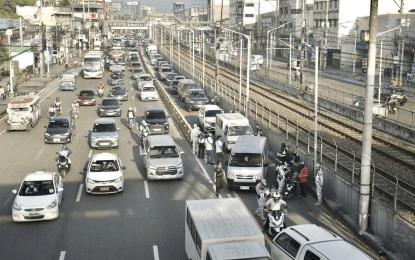 MANILA – Over 150 motorists have been apprehended by traffic enforcers on Thursday for violations related to the use of the exclusive Epifanio delos Santos Avenue (EDSA) Busway lane.
In a statement, the Department of Transportation (DOTr) said the violators were caught in a joint operation by the DOTr, the Land Transportation Office (LTO), the Land Transportation Franchising and Regulatory Board (LTFRB), and the Inter-Agency for Traffic at the EDSA Busway Tramo Station from 6 a.m. to 8:30 a.m.
Those apprehended were issued traffic citation tickets for "disregarding traffic sign" under Republic Act. No. 4136 or the Land Transportation and Traffic Code.
The operation was in response to a complaint made through the commuter hotline, the DOTr said.
"DOTr has repeatedly reminded motorists to respect and follow traffic rules, including the exclusive use of the bus lane," it said.
Aside from public utility buses, only marked emergency and government vehicles are allowed to use the Busway.
Early in July, the DOTr launched its commuter hotline for commuter and transport-related concerns and complaints.
The hotline can be reached by texting 0920 964 3867 and is open Mondays through Fridays from 8 a.m. to 5 p.m. (PNA)