By Jean Malanum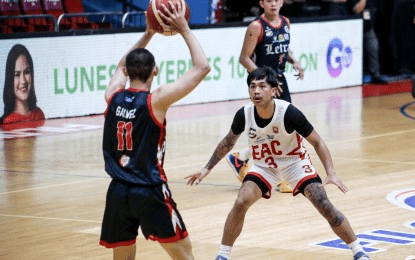 MANILA – Emilio Aguinaldo College (EAC) rolled to its second straight victory at the expense of Letran College, 75-65, in the National Collegiate Athletic Association (NCAA) Season 99 at the Filoil EcoOil Centre in San Juan on Sunday.
King Gurtiza led the Generals with 23 points, six rebounds and three assists followed by JP Maguliano with 14 points, 11 rebounds, five assists and one block, and Nat Cosejo with 11 points and four rebounds.
Vince Cuajao had 12 points, five rebounds and two blocks while Paolo Javillonar added 11 points and four rebounds for the winless Knights.
Jose Rizal University (JRU) and San Beda University (SBU) also beat their respective rivals to improve at 2-1.
Patrick Ramos scored 18 points on top of nine rebounds in JRU's 70-61 triumph over downed Mapua University.
Agem Miranda had 15 points, four steals, four assists and three rebounds while Marwin Dionisio contributed 11 points to go with six rebounds, three assists and two steals.
Clint Escamis finished with 19 points, six steals, four assists and four rebounds as Mapua absorbed its first loss in three outings.
Jacob Cortez fired 20 points, including four triples, as SBU conquered College of Saint Benilde (CSB), 83-77.
Cortez also had six rebounds, three assists and one steal, while Yukien Andrada and James Payosing chipped in 15 and 13 points, respectively.
Miguel Oczon delivered 15 points, six assists, four rebounds and two steals for CSB, which absorbed its second loss in three games.
Will Gozum had 14 points, 11 rebounds, three assists and two blocks. Robi Nayve also made 14 points while Miguel Corteza had 12 points and seven rebounds. (PNA)