By Joyce Ann L. Rocamora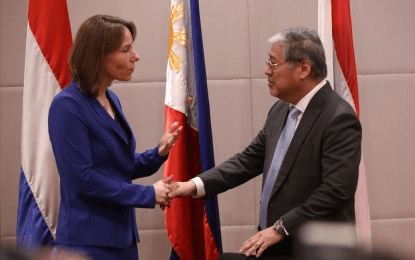 MANILA – The Netherlands on Monday expressed its full support to the Philippines in calling for the observance of the international law in the South China Sea, days following the collision incident between a Chinese Coast Guard and a Filipino resupply boat off Ayungin.
Visiting Dutch Minister of Foreign Affairs Hanke Bruins Slot on Monday said the Netherlands is committed to upholding the international law of the sea and will help Manila build its capacity.
"The Netherlands stands with the Philippines in its call for the full observance of international law in the South China Sea," she said in a joint press conference in Manila.
"In that light, we support the 2016 ruling of the Permanent Court of Arbitration that vindicated the Philippines' claim," she added.
Bruins Slot then urged all parties in the South China Sea to respect this ruling and "refrain from confrontational actions."
"Both our countries wish to cooperate more closely to ensure a stable and open Indo-Pacific region on the basis of our shared interest, values, and views," she said.
Bruins Slot also announced that a Dutch frigate is scheduled to sail on the South China Sea in 2024. (PNA)