By Ferdinand Patinio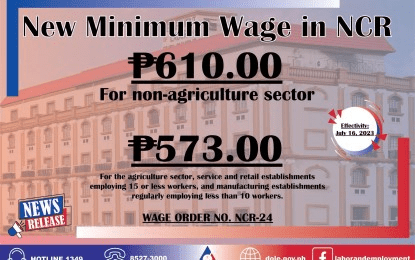 MANILA – The Department of Labor and Employment – National Capital Region (DOLE-NCR) on Monday urged employees to report companies that are not complying with the newly implemented minimum wage hike.
Wage Order No. NCR-24, which took effect Sunday, hiked by PHP40 the daily minimum wage in the region, now PHP610 for non-agriculture sector and PHP573 for the agriculture sector, service and retail establishments employing 15 or less workers, and manufacturing establishments regularly employing less than 10 workers.
"Let the DOLE-NCR know if employers do not comply with the new wage order," DOLE-NCR Director Sarah Mirasol said in a phone interview.
Mirasol said violators of the new wage rate will face double indemnity or payment of an amount equivalent to double the unpaid wage, and/or criminal liability.
Under the Wage Rationalization Act, any person or corporation, who or which refuses or fails to pay any of the prescribed increases or adjustments in the wage rates shall be punished by a fine not exceeding PHP25,000, and/or imprisonment of one to two years. (PNA)