DOH, WHO conduct free HIV screening in the workplace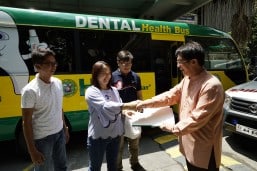 MANILA, May 11, 2018 – The Department of Health (DOH) and the World Health Organization (WHO) held a one-day free confidential and anonymous HIV screening in the workplace in several sites within the department compound on Friday.
This activity is part of the observance of International AIDS Candlelight Memorial Day on May 18.
About 400 DOH staff members, including walk-ins, can avail of the free HIV screening in eight different stations within the DOH compound. These stations are located in Disease Prevention and Control Bureau (two stations), World Health Organization (two stations), Epidemiology Bureau, Philippine National AIDS Council Secretariat, Health Promotion and Communication Service and Media Relations Unit Office.
The screening, which took about 15 minutes per person, was conducted by trained members of the community-based organization, "Project Red Ribbon". The Manila Social Hygiene Clinic and San Lazaro Hospital were also present to provide further testing and counseling to those who would test reactive in the screening.
"As health workers, we should lead and promote HIV testing as part of the national strategy to fight and prevent HIV/AIDS. It is important to know one's HIV status to enable people living with HIV (PLHIV) to access treatment, which is now given for free by the DOH," Health Secretary Francisco Duque III said.
Duque added that this activity would provide convenience and privacy to those who want to avail of the services.
"We recommend, together with other Philippine National AIDS Council member agencies, that other government agencies and private organizations do the same for their staff on a regular basis," he added.
With a 140 percent increase in estimated annual new HIV infections from 2010 to 2016, UNAIDS said "the Philippines has become the country with the fastest growing HIV epidemic in Asia and the Pacific, and has become one of eight countries that account for more than 85 percent of new infections in the region."
From January 1984 to March 2018, the number of individuals diagnosed with HIV stood at 53,192. Among those diagnosed from January 2001 to December 2005, the predominant age group was 35-49 years old. However, starting from January 2006 to March 2018, the trend shifted to the 25-34 age group.
The proportion of HIV positive cases in the 15-24 age group increased from 25 percent in 2006-2010 to 29 percent in 2011-2018.
In March 2018, there were 912 new HIV cases reported to the HIV/AIDS & ART Registry of the Philippines (HARP).
A total of 94 percent (858) of the newly diagnosed cases were male. More than half (52 percent, 471) were 25-34 years old while 31 percent (283) were 15-24 years old at the time of testing.
Sexual contact remains the most predominant mode of transmission (99 percent, 899), with 86 percent (774) among males who have sex with males (MSM). Other modes of transmission were needle-sharing among injecting drug users (1 percent, 11.)
"Given the current HIV situation in the Philippines, we have to step up our efforts to reduce the number of new HIV cases in the country," WHO Representative to the Philippines Dr. Gundo Weiler said. "We hope that people take this opportunity not only to remember the lives lost to HIV but to also work towards the elimination of HIV stigma in the Philippines. It is time to talk to your loved ones about HIV screening because treatment is readily available."
Duque said HIV is no longer a death sentence these days.
"We should end the stigma and fear attached to (this) disease. HIV/AIDS can be prevented with correct information and deaths can be averted with treatment," he said.
Currently, the DOH has certified 85 HIV treatment hubs apart from social hygiene clinics located in strategic places across the country where PLHIVs can avail of such services as screening and basic laboratory testing, treatment and management of HIV-related illnesses and counseling. (DOH PR)