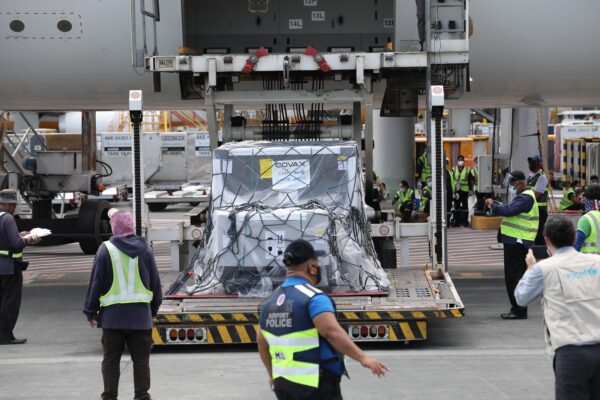 MANILA, May 8 (Mabuhay) — The Department of Health (DOH) has reallowed the use of the Oxford AstraZeneca vaccine for all age groups.
In a statement on Friday, the DOH said based on the recommendation of the Food and Drug Administration (FDA) and the DOH All Experts Group on Vaccines (DOH-AEGV), it was concluded that there are currently "no known risk factors" for vaccine-induced thrombosis and thrombocytopenia (VITT)—a very rare condition of blood clots associated with low platelet counts that occur four to 28 days after receiving a viral vector vaccine such as AstraZeneca.
It noted that the benefits of receiving the vaccine "still outweigh the risk".
The conclusion was made after discussions with the DOH-AEGV and the Philippine College of Hematology and Transfusion Medicine (PCHTM).
"Specific guidelines and measures will still be enforced so that the risks can be mitigated. To date, no local VITT events have been confirmed by the National Adverse Events Following Immunization Committee (NAEFIC) and the FDA," the DOH said.
The PCHTM has also released updated guidelines on the management of adverse events following immunization (AEFI), particularly for VITT.
"Based on the guidelines, all vaccination sites should have a strengthened post-vaccination surveillance to spot possible AEFI," the DOH said.
The resumption and issuance of guidelines are "timely" as two million doses of the AstraZeneca vaccine are expected to arrive in the country this month.
The DOH said all healthcare workers in vaccination sites will be trained to detect and manage possible symptoms of VITT and refer them to a health facility for "definitive workup and management".
The DOH-AEGV is composed of experts from the Department of Science and Technology Vaccine Expert Panel, Health Technology Assessment Council, Interim National Immunization Technical Advisory Group, NAEFIC, and the DOH Technical Advisory Group for Covid-19.
Earlier, the DOH adopted the recommendation by the FDA to temporarily suspend inoculation with the AstraZeneca vaccine for individuals aged below 60 years old as a precaution after reports of possible "very rare" cases of VITT.  (MNS)
READ NEXT: 2 million AstraZeneca COVID-19 vaccines arrive in PH through COVAX