By Priam Nepomuceno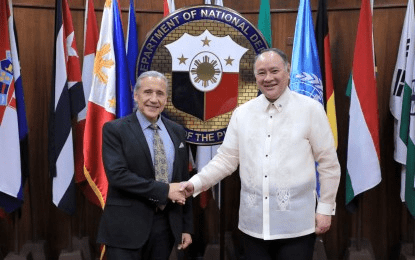 MANILA – The Department of National Defense (DND) has reaffirmed its commitment to work together with the United Nations (UN) to resolve "complex humanitarian issues".
This collaboration between the two parties was renewed following the courtesy call of United Nations Resident Coordinator (UNRC) in the Philippines Gustavo Gonzalez to DND Secretary Gilberto Teodoro Jr. on July 12.
"Reaffirming the commitment to foster collaboration and strengthen the longstanding partnership between the Philippines and the UN, both sides underscored the need for joint efforts to address complex humanitarian issues," DND spokesperson Arsenio Andolong said in a statement Friday.
Gonzalez recognized that cooperation between the Philippines and the UN has particularly been growing in the area of disaster risk reduction and management.
Gonzalez said the Philippines is considered by the UN a model country for humanitarian aid due to the country's resilience in the face of frequent onslaught of natural disasters.
"Relatedly, he lauded the Philippines' well-established systems for disaster preparedness, response and recovery, coupled with its robust community networks, which contribute to its ability to effectively address humanitarian crises," Andolong said.
In line with this, Teodoro also expressed his intent to re-engineer the country's National Disaster Risk Reduction and Management System to make it "more agile, effective, sustainable, and transparent."
"Both sides expressed their unwavering dedication to work closely and leverage their respective strengths to achieve mutual objectives," Andolong said. (PNA)