By Joyce Ann L. Rocamora and Priam Nepomuceno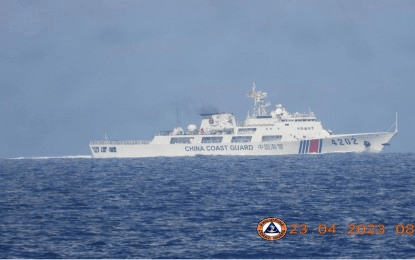 MANILA – The Department of National Defense (DND) chided China on Saturday over its "propaganda lines" accusing the Philippines and the BRP Sierra Madre, Manila's outpost in the Ayungin Shoal, of marine damage.
"The statement of China that the grounded Sierra Madre is causing irrevocable harm is to put it as politely as possible, hypocritical," DND Secretary Gilberto Teodoro Jr. said in a statement.
"Talk about the pot calling the kettle black! China continues to damage the West Philippine Sea by its illegal reclamation activities in the South China Sea.
Teodoro pointed out yet again that the Hague-based Permanent Court of Arbitration (PCA) in its 2016 ruling found China to be a "violator of international law" when its reclamation operation in the area damaged the marine environment.
Chinese Foreign Ministry Spokesperson Mao Ning on Thursday denied that Beijing is responsible for the extensive coral damage recorded in the Rozul Reef and Escoda Shoal in the West Philippine Sea.
She labeled the reports from the Philippine side as Manila "creating a political drama from fiction" and demanded that the country remove the BRP Sierra Madre in the Ayungin Shoal instead.
Teodoro warned Beijing that "disingenuous propaganda lines" would imply its "insincerity and will only heighten the mistrust by the Filipino people and the rest of the world of the Chinese government."
As of this posting, the Department of Foreign Affairs is still waiting for the complete assessment of relevant government agencies on the environmental damage in Rozul Reef.
The Office of the Solicitor General is also studying legal options on the coral reef destruction, including the possible filing of a complaint for damages before the PCA. (PNA)