By Priam Nepomuceno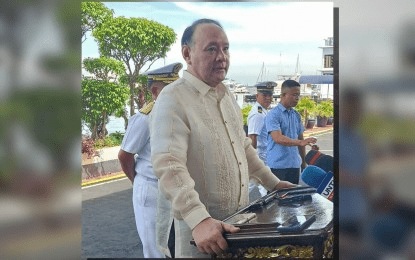 MANILA – The Philippines' operations in the West Philippine Sea (WPS) will continue despite Chinese harassment on Filipino ships going about their lawful missions in these waters, Defense Secretary Gilberto Teodoro Jr. said on Wednesday.
"Hindi ko ma establish (na) isolated na insidente. mabuti pang ang sa Wescom (Western Command) (itanong) but on my end naman ang instructions ni President ke anong mangyari dyan tuloy-tuloy ang ating operations sa WPS (I could not establish on whether the incident is an isolated one, you better ask Wescom about that but on my end, the President's instruction is very clear, whatever happens, operations in the WPS will continue)," he said during the "Kapihan sa Manila Bay" forum, when asked whether the dangerous maneuver of a People's Liberation Army Navy (PLAN) ship against BRP Benguet (LS-507) last Oct. 13 is an escalation on the part of China.
Teodoro also dismissed China's claim that the Philippines is illegally occupying Pag-asa Island.
"Ayoko naman matawa dahil bastos naman pero itanong mo sa kanila kung ano yung gustong sabihin, sasabihin nila siguro indisputable sovereignty ng South China Sea. Ilan ang naniniwala dun? (I don't want to laugh as it will be rude, but you can ask them on what they want really what to say, they will probably state they have indisputable sovereignty over the South China Sea, how many will believe that claim?)" the DND chief said.
Referring to China's continued encroachments, Teodoro said those who intrude on the country's 200 nautical-mile exclusive economic zone are the ones who can be considered squatters and illegal occupants.
"Sila ang squatter dito, illegal occupants dito, pwede naman silang mag apply ng visa, bibigyan sila ng BID (Bureau of Immigration, formerly the Bureau of Immigration and Deportation) (they are the squatters here, illegal occupants, they can also also apply for a visa if they want to stay here, the BI is willing to grant such request)," Teodoro said.
Earlier, the Armed Forces of the Philippines (AFP) said the Chinese attempt to cross the bow of BRP Benguet (LS-507) last week was the first time they did such a maneuver on a Filipino vessel doing a routine rotation and resupply (RORE) mission in Rizal Reef.
The BRP warned off and issued consecutive radio challenges to China's PLAN Ship 621 after it shadowed the Filipino ship at an 80-yard distance and attempted to cross its bow with a closest point of approach of 350 yards while 5.8 nautical miles southwest of Pag-asa Island.
The AFP said it has submitted a report to the Department of Foreign Affairs regarding the incident which might be a basis of another diplomatic protest against China. (PNA)