By Priam Nepomuceno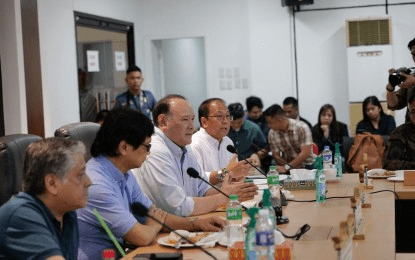 MANILA – Department of National Defense (DND) Secretary Gilberto Teodoro Jr. on Thursday cited the need to run after manufacturers of illegal firearms to curb the proliferation of private armed groups (PAGs).
"The DND would also like to converge with each and every one of you, not only to go after armed groups but the manufacture of illegal firearms as well because we have to hit the demand source and the supply source," Teodoro said during the 13th oversight committee hearing for the National Task Force for the Disbandment of Private Armed Groups (NTF-DPAGs) held at Western Mindanao Command headquarters in Camp Navarro, Zamboanga City.
Teodoro said this is necessary because PAGs are now creating weapons that can be used to target and maim peace-loving people.
He added that these illegally manufactured firearms are not only the source of crimes and violence but of extortion activities as well.
Teodoro, who is also NTF-DPAG's vice chair, said the DND will work with all the members of the task force to ensure that the duty to maintain peace on the ground is done sustainably.
The DND chief added the presence of Special Assistant to the President, Secretary Antonio Ernesto Lagdameo Jr. is a manifestation that President Ferdinand R. Marcos Jr. is eager to hear about the achievements of the task force.
Teodoro also emphasized that the Armed Forces of the Philippines and the DND will collaborate with the Department of the Interior and Local Government (DILG), the Office of the Presidential Adviser on Peace, Reconciliation, and Unity (OPAPRU), and other agencies to achieve sustainable peace and order, which is imperative in development.
"We should also gather the confidence of investors, both foreign and domestic, which are needed to drive our resource-base so that we can enforce peace in a more sustainable manner," the defense chief noted.
The committee discussed updates on current operations and made directives to secure areas in time for the Oct. 30 Barangay and Sangguniang Kabataan Elections.
Also present in the committee meeting were DILG Secretary and chairperson of the NTF-DPAGs Benjamin Abalos Jr. and OPAPRU Secretary Carlito Galvez Jr. (PNA)