By Christopher Lloyd Caliwan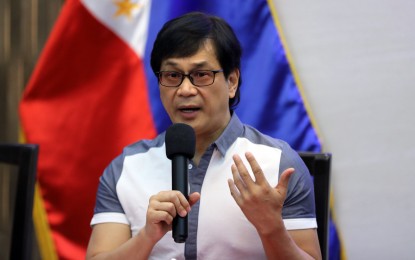 MANILA – The names of police officials whose courtesy resignations would be accepted won't be made public, Department of the Interior Local Government (DILG) Secretary Benjamin Abalos Jr. said on Friday.
"There is no need. This is a radical move. Kamukha ng sinasabi ko (Like what I said before), extraordinary times call for radical and bold actions. This is out of the box, in the same token, let's say if their resignation is accepted, let them retire silently," Abalos told reporters in a press briefing in Camp Crame, Quezon City.
Abalos, however, said the monitoring and investigation efforts will continue so that authorities can file appropriate charges against those who would be found involved in illegal drugs.
He also said the National Police Commission (Napolcom) will also review the names of police officers whose resignations will be accepted.
"Importante sa akin yun, salang-sala (That's important to me, they should be thoroughly screened) I'd rather have one man who is guilty get off the hook than one innocent person be dismissed," he said.
Baguio City Mayor Benjamin Magalong, a retired police general, is part of the five-member committee that will assess the courtesy resignations and make a recommendation to President Ferdinand R. Marcos Jr.
Abalos said he would soon announce the names of the other members of the body.
"Ayoko maging fishing expedition ito eh (I do not want this to be a fishing expedition). We just want to make sure that when we announce, talagang tanggap ng tao (it would really be accepted by the public),'' Abalos added.
The DILG chief also thanked the police officials for heeding his appeal.
"Ako'y nagpapasalamat sa tiwalang binigay nila (I am thankful for the trust that they gave) and we will make sure, of course, that our five-man committee (are composed of) persons of integrity," Abalos said.
As of Friday, about 95 percent of the 954 PNP generals and full colonels have submitted their courtesy resignations.
However, PNP spokesperson Col. Jean Fajardo, said the total number of third-level officials went down from 956 to 953 following the retirement of three officials.
"Some of you might be wondering why the original 956 is as of 9 a.m. today is 953 because some people have retired. So out of the 953, 904 have submitted so we are waiting for at least 49 more who will be able to submit a courtesy resignation within the week," Fajardo told reporters.
Fajardo also said the PNP respects Abalos' decision not to publicize the names of police officials whose courtesy resignations will be accepted.
"This call for courtesy resignation is just the initial stage. The SILG [Secretary of Interior and Local Government] and PNP chief [Rodolfo Azurin Jr.] already explained that. If during the evaluation and assessment, it shows that there is enough basis to prove their links, [the investigation] does not stop from their resignation," Fajardo said.
The PNP spokesperson said the findings of the committee will be forwarded to the Napolcom, and the officers who will be proven to have links to illegal drug activities will be charged with corresponding criminal cases.
Fajardo noted that the officers can still appeal the findings of the committee.
"If there is a need to release the names in the interest of transparency, then we need to wait for the process to be completed. We don't want to jump to conclusions and release them in haste. They might exercise their rights to question or in fact exhaust their legal remedies to somehow clear their names," she said.
PNP chief Gen. Rodolfo Azurin Jr. said at least 10 police officials were included in the list of those allegedly involved in illegal drugs but there is no information yet if they have already submitted their courtesy resignation. (PNA)