By Joyce Ann L. Rocamora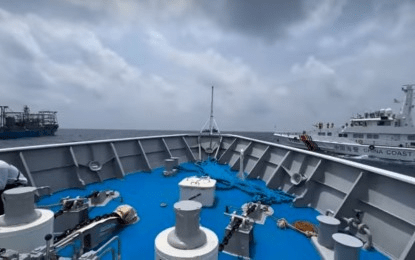 MANILA – The participation of Special Envoy to China Ambassador Teodoro Locsin Jr. in the latest resupply to Ayungin Shoal is part of an "official mission" to get firsthand information on the situation in the West Philippine Sea, the Department of Foreign Affairs (DFA) said Saturday.
Locsin joined the routine rotation and reprovisioning (RORE) mission on Oct. 4 aboard the BRP Cabra (MRRV-4409), one of the escort vessels of two Philippine ships that brought fresh supplies to the troops stationed at BRP Sierra Madre in Ayungin Shoal.
"As Special Envoy, he is expected to be up to date on the matters that he will discuss with China; and there is no better way to understand the West Philippine Sea issue than to see, for himself, what is happening in our own waters," DFA Spokesperson Ma. Teresita Daza said in a text message on Saturday night.
"We are confident that this firsthand information will allow him to effectively convey our concerns to China," she added.
Locsin, the Philippine ambassador to the United Kingdom and former DFA Secretary, was appointed as President Ferdinand R. Marcos Jr's special envoy to China for special concerns in August 2023.
As of this posting, the DFA has yet to respond to information if Locsin will be meeting with Chinese officials anytime soon.
The DFA has filed a total of 46 notes verbales against China from January to Oct. 4, 2023 but Daza did not confirm whether the latest diplomatic communication is a protest against the maneuvers conducted by the Chinese Coast Guard (CCG) during the Oct. 4 RORE mission.
While successful, the National Task Force for the West Philippine Sea (NTF-WPS) said there were attempts by a significant number of CCG and Chinese Maritime Militia vessels to "block" and "harass" Philippine supply ships Unaizah May 1 and Unaizah May 2. (PNA)