By Ruth Abbey Gita-Carlos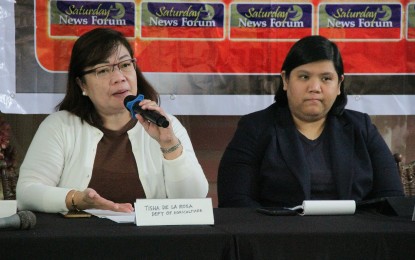 MANILA – The Department of Agriculture (DA) is expecting an increase in exports of Philippine products to participating countries under the Regional Comprehensive Economic Partnership (RCEP).
Tisha Dela Rosa, DA Development Management Officer V, allayed fears of various agriculture groups on the ratification of RCEP, assuring them that the multilateral trade deal would benefit them.
"It (RCEP) is not something that we have to fear because it will not liberalize the [agriculture] sector more than what it is now," Dela Rosa said during the Saturday News Forum at Dapo Restaurant in Quezon City.
"Hindi naman dapat katakutan ang RCEP (RCEP's ratification should not be a cause for concern). Instead, we'd like to look at RCEP as a venue para mapalakas po ang ating export kasi meron tayong mga nakuha diyan na benefits naman or concessions na makakatulong sa ating agri exporters (to increase our exports because there are concessions that could help our agriculture exporters)," she added.

Dela Rosa noted that processed food products are among the agricultural items that could be exported to RCEP members.
"Malaki ang potential ng processed food products for export dito sa ating RCEP. So makakatulong po ito sa job generation (Processed food products have a big potential for export under RCEP. So, it could help generate jobs)," she said.
Agricultural stakeholders have raised concerns that while RCEP would give a boost to imported agricultural products, this could hurt local farmers and producers.
Under RCEP, only 14 agricultural commodities representing 33 tariff lines, will see lower tariff rates.
The figures account for 1.9 percent of total tariff lines and only USD132 million or 0.8 percent of total agricultural imports.
The agricultural commodities will be affected since RCEP preferential rates for these items will be generally lower than the most favored nation rate and lower than the ASEAN+1 rate after approximately 15 years.
ASEAN+1 consists of the economic partnerships among the 11 Southeast Asian member states with Japan, South Korea, Australia, and New Zealand.
Dela Rosa said agriculture stakeholders need not worry since the Philippines has an "exclusion list" which enumerates key agricultural commodities that will be protected from any tariff commitments because they are considered "sensitive products."
"Marami ho kaming mga exclusion list na tinatawag or hindi kinomit [commit] kagaya ng mga sensitive products natin like meat, rice, corn, sugar. 'Yung mga ganoon po hindi po siya kasama doon (Sensitive products like meat, rice, corn and sugar are in the exclusion list. They are not included)," she said.
Bianca Pearl Sykimte, assistant director of the Department of Trade and Industry – Export Marketing Bureau, said the agency is working with the DA in conducting an information drive to help exporters understand RCEP.
"So, parte nga po ng advocacy namin as an export marketing arm is to look at ano po ba iyong mga emerging trends ngayon sa market (part of our advocacy as an export marketing arm is to look at the emerging market trends)," Sykimte said.
In an event with international trade partners in Taguig City on Friday, President Ferdinand R. Marcos Jr. said his administration has implemented reforms and put up mechanisms to ensure that the country will be an "ideal player" in the export sector. (PNA)