By Stephanie Sevillano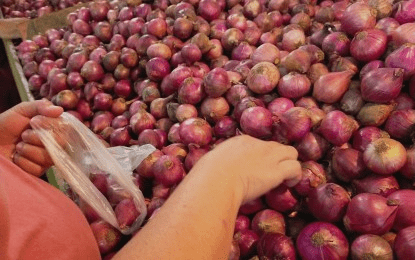 MANILA— The Department of Agriculture (DA) on Tuesday said it might consider "regulated" importation amid renewed spike in the prices of onions.
In a media interview, DA Deputy Spokesperson Rex Estoperez said the import volume might be at 22,000 metric tons for red and white onions or equivalent to a month-long consumption volume.
"Other alternatives that we have considered also is that, will we import? Kung ganoon patuloy 'yung presyo (If the price continues to be this [high]), we might import… but on a regulated or calculated basis," he said.
Based on the DA's latest price monitoring, the prevailing price of local red onion in Metro Manila ranges from PHP160 to PHP200 per kilogram, while local white onion is pegged from PHP150 to PHP200 a kilo.
Estoperez noted that the farmgate price of onions is now at PHP120 per kilo as the country approached the off-season.
He, however, insisted that the DA wanted to intensify its coordination with the local government units (LGUs) amid reports of price manipulation by unscrupulous traders.
The Samahang Industriya ng Agrikultura (SINAG) earlier called on traders for the "overpriced" onions, noting that they originally got it at only around PHP60 per kilo farmgate price during the harvest season.
Estoperez also said the department continues to discuss with legislators to explore both short- and long-term solutions.
"We're asking also, because [some] congressmen in the house have addressed this, to strengthen [the ways] on how to do the anti-smuggling through maybe the Price Act or [through] our anti-price manipulation," he said.
The DA said the country still has 117,000 metric tons of onion inventory in cold storage which may last for months. (PNA)