By Zaldy De Layola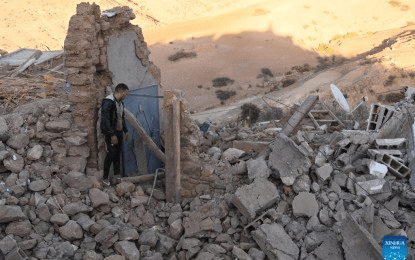 MANILA – The House of Representatives sent its sympathies to Morocco following a deadly earthquake on Friday night even as it expressed relief that no Filipino was among the over 2,000 fatalities.
Speaker Ferdinand Martin Romualdez said the magnitude 6.8 earthquake was a poignant reminder of the unpredictable forces of nature that mankind must grapple with.
"As we share our condolences with the affected families, we acknowledge the commendable efforts of the rescue teams, working diligently amidst adversity. The international community stands united in its wish to see swift recovery and healing for Morocco during these challenging times," Romualdez said in a news release on Sunday.
He felt relieved upon knowing that no Filipino was reported harmed or included in the death toll.
"We are also mindful of our own citizens abroad, and it is a relief to know that the Filipino community in Morocco is safe," Romualdez said.
He commended the Department of Foreign Affairs and Philippine Ambassador to Morocco, Leslie Baja, for their dedicated efforts in ensuring the well-being of Filipino nationals.
"We encourage our kababayan (countrymen) to stay vigilant and maintain close coordination with local authorities," he said. "In moments of global challenges, unity and understanding are paramount. We extend our hand in solidarity to Morocco and remain committed to the welfare of our overseas Filipino community."
The quake has claimed the lives of 2,012 and injured 2,059, with 1,404 of them in serious condition, according to the latest update from Morocco's Interior Ministry on Saturday. (PNA)