By Stephanie Sevillano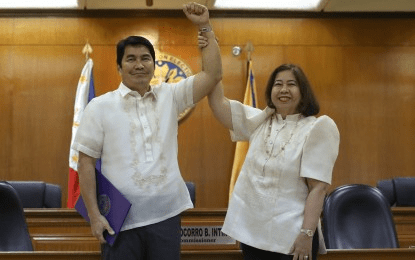 MANILA – The Commission on Elections (Comelec) on Thursday issued a certificate of the proclamation to Erwin Tulfo as the third nominee of the Anti-Crime and Terrorism Community Involvement and Support (ACT-CIS) party-list.
"Comelec Commissioner Socorro B. Inting officially proclaims Mr. Erwin T. Tulfo as the third nominee of ACT-CIS Party List, following the Comelec en banc's decision, dismissing the petition for disqualification of Mr. Tulfo," the Comelec said on a Facebook post.
Tulfo, former secretary of the Department of Social Welfare and Development, replaced Jeffrey Soriano who resigned as a third nominee in February this year.
With the Comelec certification, Tulfo shall serve as a member of the House of Representatives until June 30, 2025.
Tulfo was joined by ACT-CIS Party-list Rep. Edvic Yap, Benguet Rep. Eric Yap and former Tourism Secretary Wanda Tulfo-Teo, among others during his proclamation.
"So somebody, by the grace of God, someone questioned the legality because finally, this will be all over with. Comelec was able to answer all these doubts, all these questions. Now that is already behind us. I would like to thank everybody and now my work begins," he said.
Tulfo is expected to begin his tour of duty as a congressman on July 24 when the 19th Congress opens its second regular session. (PNA)