By Ruth Abbey Gita-Carlos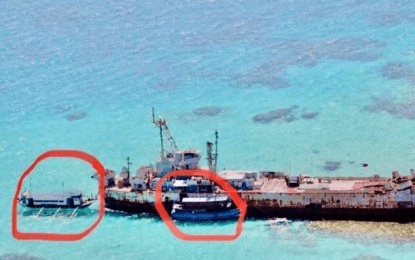 MANILA – China's claim that the Philippines has made a promise to remove the grounded BRP Sierra Madre from Ayungin Shoal is a "lie and gaslighting," a maritime law expert said Saturday.
At a news forum in Quezon City, University of the Philippines Institute for Maritime Affairs and Law of the Sea Director Jay Batongbacal said China's latest move is an attempt to manipulate the Philippines through strategies that would be advantageous to Beijing.
On Wednesday, President Ferdinand R. Marcos Jr. said he is repealing any commitment, should there be an existing agreement between the Philippines and China, on the supposed removal of the BRP Sierra Madre from Ayungin Shoal.
"Hindi po kami naniniwala. Matagal na rin naming naririnig iyan pero wala naman kaming matunton na posibleng nagsabi noon na mayroon talagang authority (We don't believe that. We've been hearing that for a long time, but we haven't been able to find anyone with authority who might have said that)," Batongbacal said, when asked if he believed that the government made a promise to remove its grounded ship from Ayungin Shoal.
"Definitely, it's a lie, it's gaslighting na tinatawag. Mapapansin niyo, madalas nangyayari iyan. Pinapaduda ka sa sarili mong posisyon by saying things. Nagbibigay sila o inject sila ng mga sinasabi nilang nangyari pero hindi mo alam kung totoo o hindi kaya nagdududa ka tuloy sa sarili mong posisyon (that we call. You will notice, that happens often. They make you doubt your own position. They give or inject what they say happened but you don't know if it's true or not so you keep doubting your own position)," he added.
Stressing the need for the Philippines to be "determined and skilled," political analyst and De La Salle University professor Renato de Castro lauded Marcos for standing firm that the BRP Sierra Madre would not be removed from Ayungin Shoal.
"It boils down to the national determination. And I think the President has already implicated we will not abandon the BRP Sierra Madre. That's the most important thing, the political decision to ensure that we maintain our presence over Ayungin Shoal," he said.
University of Santo Tomas Political Science Department professor Dr. Froilan Calilung said the problem with China is it has "many collective hallucinations."
Batongbacal said China's behavior, even during the past administrations, "has always been the same."
He said Beijing is attempting to make other "dangerous maneuvers" to test the current administration.
"This one, in a way, it's probably tine-test nila ang (it is testing the) current administration," he said.
"Ang China sa bawat bagong administration, nag-i-instigate iyan ng potential crisis. Tine-testing nila kung ano bang klaseng lider 'to, ano bang klaseng mga tao ang nakapaligid sa kaniya (Every time there is a new administration, China is institgating a potential crisis. It is testing what kind of leader we have and what kind of people are surrounding him)."
'Part of tactic' to pressure PH
On Monday, China reiterated its call for the Philippines to fulfill its promise to remove the BRP Sierra Madre from Ayungin Shoal.
Prior to China's demand, the Chinese Coast Guard on Aug. 5 blocked and used water cannon against the Philippine Coast Guard (PCG) resupply mission to Ayungin Shoal.
The Department of Foreign Affairs said China could not be reached "for several hours" when the Philippines made an attempt to communicate with Beijing through the government-to-government hotline following the water cannon incident.
De Castro said the incident is "part of (China's) tactic" to pressure the Philippines and create a "crisis situation to put the other side on the defensive."
"The Chinese do not do it on a basis of good faith," he said. "They always deal with crisis from the position of that faith. The crisis is not meant to resolve. The crisis is meant to put the other side on the defensive, to put pressure on you."
China's 'worst nightmare'
The Philippines being in consonance with other sea claimants such as Vietnam is "China's worst nightmare," De Castro said.
"Ang pinakakinatatakutan ng China ay 'yung other claimant states, 'yung Southeast Asian states, mag-unite. Ito 'yung in fact nangyayari na (What China fears most is that other claimant states, the Southeast Asian states, are uniting. This is what is in fact happening)," he said.
Batongbacal said there was a "deliberate" attempt to "sabotage" the Philippines' good relations with Vietnam despite the maritime dispute.
'Not wise' to go to war
PCG spokesperson for the West Philippine Sea (WPS) Commodore Jay Tarriela said the government has monitored around 400 foreign ships in the WPS, noting that more than 85 percent of the sighted vessels come from China.
Calilung said China tends to disregard the ongoing negotiations with the Philippines to resolve maritime disputes.
He said any potential agreements, including the proposed Code of Conduct in the South China Sea, will not succeed if China continues to act that way.
"Ang problema kasi sa (The problem with) China is it says one thing, but then again, it actually defeats the very statement that it gives afterward. And I think it's really hard to be with that kind of a country," Calilung said.
"Kahit anong agreement or kahit anong arbitration o kahit ano sigurong areglo ang gawin natin, kung mahirap ang ating ka-transaksyon (No matter what agreement or any arbitration or any settlement we may make, if our transaction partner is problematic), it's going to always fail," he added.

Despite the recent developments, Calilung acknowledged that it is "not wise" to go to war with China, while Batongbacal said the Philippines' response to China's "hostile" acts "depends on the rules of engagement."
"It's not automatic, high-level na. Meron ding mga standard 'yung responses, 'yung tinatawag nating (There are standard responses which we call) proportionality and reasonability. So 'yung mga factor na 'yun (These are the factors that) will come into play pero hindi natin masasabi ngayon theoretically kung ano ang magiging situation ngayon (but we could not tell theoretically what would be the situation now)," Batongbacal said.
Strengthening capabilities
Calilung said it is "high time" for the Philippines to strengthen its capabilities, noting that the country needs to execute ways and means to build or revitalize its own shipyard so it could match China's capabilities.
"We need to actually empower ourselves domestically to be able to generate power that is very, very important," he said, adding that the government has to be steadfast in asserting control over the Ayungin Shoal.
Armed Forces of the Philippines spokesperson Col. Medel Aguilar said the deployment of Philippine militia vessels in the WPS is one of the options being considered to enhance the country's maritime capabilities.
"That could be one… But all of these options will be properly evaluated to test its feasibility, to test its chances of success," he said. (PNA)