MANILA – Speaker Martin Romualdez is confident that the Senate bicameral conference panel contingent will support the PHP77-billion institutional amendments by the House of Representative on the proposed PHP5.268 trillion General Appropriations Bill for 2023.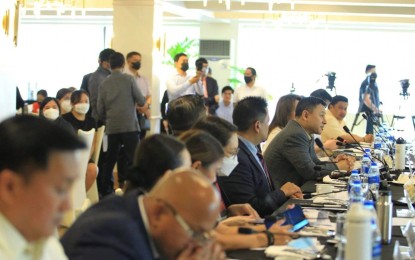 The amount would be used to augment the budget for education, health, transportation and other critical social services, Romualdez said in a news release.
"We really feel that these institutional amendments will redound to the benefit of the people. Hinding-hindi tayo magkakamali kung ang kapakanan ng mamamayan ang ating uunahin (We will never go wrong if we always prioritize the welfare of our countrymen)," he said.
He is certain the Senate and the House bicam members will see eye-to-eye because their objective is the same, that is "to pass a people's budget that reflects President (Ferdinand R.) Marcos Jr. 's eight-point economic agenda that will help the country bounce back from the pandemic."
House Appropriations Committee chair and Ako Bikol party-list Rep. Elizaldy Co echoed Romualdez's statements, saying the House amendments are pro-people and pro-development.
"We are confident that if the Senate and the House approve these amendments, we can recover well from the pandemic in 2023," Co said in the same news release.
The House institutional amendments are ayuda (aid) programs that will directly benefit the people, such as PHP12.5 billion for the Department of Social Welfare and Development, broken down into Assistance to Individuals in Crisis Situations, PHP5 billion; upgrade of senior citizens' pension through the National Commission of Senior Citizens, PHP5 billion; and Sustainable Livelihood Program, PHP2.5 billion.
Co also cited the Department of Transportation's PHP5.5-billion to address rising costs, like the fuel subsidy program PHP2.5 billion; Libreng Sakay (free ride), PHP2 billion; and bike lane construction, PHP1 billion; and the Department of Labor and Employment's PHP3 billion for the emergency employment assistance program "Tulong Panghanapbuhay sa Ating Disadvantaged/Displaced Workers" and PHP2 billion for livelihood programs
"What we did was allocate more budget to pro-people programs without the need to sacrifice our national programs and projects for job creation. We are confident that there will be no contentions with our amendments here," Co said.
Other parts of the P77-billion institutional amendments are:
• Department of Health's PHP20.25 billion allotted for various programs such as Medical Assistance for Indigent Patients, PHP13 billion; health care and non-health care workers and frontliners, PHP5 billion; support for specialty hospitals, PHP2 billion; and Cancer Assistance Program, PHP250 million;
• Department of Education's PHP10 billion for school and classroom construction; and special education programs, PHP50 million;
• Technical Education Skills and Development Authority's PHP5 billion for training and scholarship programs;
• Commission on Higher Education's (CHED) PHP5 billion for "Tulong Dunong", a financial assistance program for qualified and deserving students. It is intended for the ongoing grantees and new applicants who are enrolled or will enroll in CHED-recognized programs of private higher education institutions, state universities and colleges, and local universities and colleges with Certificate of Program Compliance;
• Department of Public Works and Highways' PHP10 billion for the construction of water systems in underserved upland villages;
• Department of Information and Communications Technology's PHP1.5 billion for the national broadband project;
• Commission on Elections' PHP500 million for its new building;
• Philippine National Police's PHP300 million to train law enforcement officers in coordination with the Department of Justice;
• Department of Trade and Industry's PHP250 million to assist the creative industry pursuant to Republic Act No. 11904 (Philippine Creative Industries Development Act);
• Energy Regulatory Commission, PHP150 million;
• Office of Solicitor General, PHP147 million; and
• National Electrification Administration's PHP50 million for the village and sub-village electrification program. (With a report from Zaldy De Layola/PNA)