By Wilnard Bacelonia and Benjamin Pulta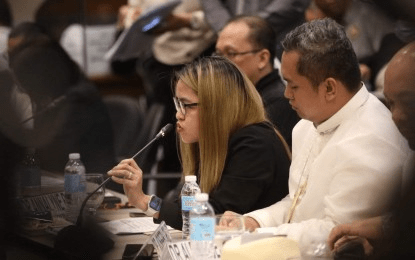 MANILA – The National Bureau of Investigation (NBI) and the Bureau of Corrections (BuCor) vowed on Tuesday to continue searching for Michael Cataroja, an inmate of New Bilibid Prison (NBP) who has gone missing since July 15.
The Senate Committee on Justice and Human Rights chaired by Senator Francis Tolentino conducted an inquiry into the disappearance of Cataroja and the alleged mass grave inside the NBP at the conference hall of the national penitentiary in Muntinlupa City.
BuCor Director Gregorio Catapang Jr. said his intuition tells him that Cataroja escaped from the maximum penitentiary.
"Si Cataroja, ang kaso po niyan eh magnanakaw ng mga sasakyan. Kaya niya pong kalikutin kung anong mga… pwede siyang… carnapper po siya eh. So, may chance po na nakalusot (Cataroja's case is car theft. He can fiddle with things… he can… he is a carnapper. So, there's a chance that he was able to get through)," he said.
Catapang said the NBP still has a third septic tank that will be opened "as soon as possible" to confirm the reports of mass grave inside the facility.
This, after Dr. Annalyne Dadiz of the NBI-Medico Legal Division told senators that the piece of bone recovered from the two septic tanks of the NBP is "most likely" not a human bone.
During the inquiry, the piece of bone was among the recovered objects from the suction made for the NBP septic tanks which her team inspected on July 26.
"We have one piece of bone and this is not of human origin. Number two, we have one brief underwear. We have two [pieces of razors, and three lighters]. We conducted the process of forensic identification. Through this process, we made use of elimination and comparison, and we concluded that it is not of human origin," Dadiz told the panel.
"In all likelihood, through the process of comparison, it is consistent with a chicken leg bone," she added.
Dadiz explained to senators that the photo shown in the media looked like a human bone because it was zoomed in.
She also pointed out that the process they conducted would not identify who used the other objects recovered or determine whether it was thrown in the septic tanks at the same time.
When asked if there were other objects recovered, Dadiz said the suction process completely drained the septic tank and stuck with the list they have provided the committee.
NBI's team was also joined by University of the Philippines experts who also committed to submit their findings to the panel through an official report.
Senator Ronald Dela Rosa, himself a former BuCor chief in April to October 2018 before running for a Senate seat, urged Catapang to consider replacing the prison leaders ("kumanders" and "bosyo") who are responsible for maintaining gangs inside the NBP.
"It is unthinkable that a BuCor employee will allow an inmate to escape," he said.
Senator Robinhood Padilla, who had served time behind bars for illegal possession of firearms, reminded the inmates' leaders that any problem they cause also create anxiety for their loved ones outside. (PNA)