By Ferdinand Patinio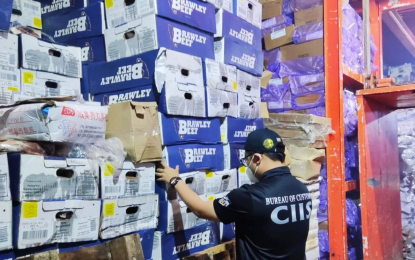 MANILA – A series of raids of seven warehouses or cold storage facilities yielded an estimated PHP120 million worth of suspected smuggled frozen poultry and seafood products, the Bureau of Customs (BOC) said Sunday.
In a statement, the BOC said the composite team went to the warehouses in Navotas City on Friday to implement the Letters of Authority (LOAs) signed by Commissioner Bienvenido Rubio.
Alvin Enciso, chief of the Customs Intelligence and Investigation Service-Manila International Container Port (CIIS-MICP), led the group in serving the LOAs to warehouse representatives.
Department of Agriculture (DA) Assistant Secretary James Layug, Navotas City Lone District Rep. Toby Tiangco, personnel from the Business Permit and Licensing Office (BPLO) and village officials joined the team.
After the representatives acknowledged the LOA, the team inspected the warehouses where they found poultry products, such as frozen pork legs, chicken drumsticks, pork spareribs, squid rings, crayfish, pork ears, pork hinges, baloney, brawley beef, pork aorta, chicken feet, pork riblets, golden pampano, pangasius fillet, boneless pork ham, fish tofu, and pork ears.
While most of the frozen seafood were from China, there were also beef from Brazil and Australia, pork from the United States, and pork ears from Russia.
Authorities also found an empty warehouse that was purposely made to be a cold storage facility.
"This is outstanding work by our law enforcement officers and our bureau personnel. I understand how much effort and commitment it takes to inspect all of these warehouses in just one day. It also goes to show how important proper coordination is among government agencies because these operations won't be possible without it," Rubio said.
The group padlocked and sealed the warehouses, including the empty storage facility, the keys of which were turned over to village officials present during the inspection.
The inventory of the goods will be conducted by the assigned Customs examiner and would be witnessed by agents from the CIIS and Enforcement and Security Service.
The owners of the goods would be asked to present importation documents or proofs of payment.
If without proper documents, seizure and forfeiture proceedings will be conducted for violation of Section 1400 (misdeclaration in goods declaration) in relation to Section 1113 (property subject to seizure and forfeiture) of Republic Act No. 10863 known as the Customs Modernization and Tariff Act.
Juvymax Uy, Deputy Commissioner for Intelligence Group, underscored how border protection stopped the economic impact of smuggled products entering Philippine markets.
"Our officers have once more shown their diligence to target, detect, and intercept potential threats to our people's economic activities. This is just one of the ways how the bureau protects the public—by keeping these products away from consumers and thus safeguarding the livelihoods of those who go through the proper legal process of bringing in imported goods," he added.
The operation was conducted in coordination with the DA-Inspectorate and Enforcement Office, National Meat Inspection Service and Philippine Coast Guard. (PNA)