By Ferdinand Patinio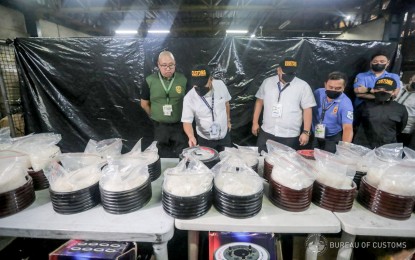 MANILA – The Bureau of Customs (BOC) intercepted a shipment containing over 58 kilos of methamphetamine hydrochloride, more popularly known as shabu, with a total estimated street value of more than PHP400 million at the Pair Cargo Warehouse in Pasay City.
In a statement Tuesday, the bureau said Commissioner Bienvenido Rubio and BOC Intelligence Group Deputy Commissioner Juvymax Uy inspected the shipment from Guinea on Monday.
It added that a physical examination was conducted by the Customs Examiner due to a suspicious image seen by NAIA Customs X-Ray Operatives, which yielded 58.93 kilograms of shabu with an estimated value of PHP400.724 million as confirmed by the Philippine Drug Enforcement Agency (PDEA).
The shipment is said to contain vehicle spare parts.
PDEA is currently conducting an investigation on the consignee who is set to undergo inquest proceedings for violation of Republic Act (RA) 9165 and RA 10863 also known as the Customs Modernization Act.
The BOC-NAIA, under the guidance of Rubio, is steadfast in protecting the country against any form of smuggling, aligned with the directives of President Ferdinand R. Marcos Jr.
The port will heighten its vigilance against illicit goods and border protection efforts to meet revenue targets and ensure secured trade. (PNA)