By Ferdinand Patinio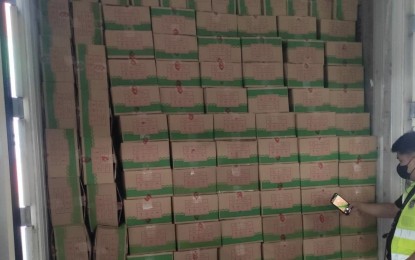 MANILA – The Bureau of Customs (BOC) found smuggled frozen goods worth over PHP130 million in three containers that recently arrived at the Manila International Container Port (MICP) after receiving derogatory information about misdeclared items in these shipments from China.
In a statement, Customs Commissioner Yogi Filemon Ruiz said the containers, consigned to Victory JM Enterprise OPC, underwent thorough physical examination on Monday based on the information received by the Customs Intelligence and Investigation Service-MICP (CIIS-MICP).
The total estimated amount of the frozen goods in the containers is PHP131,902,500.
"We will file the appropriate criminal charges against the consignees as soon as the proper paperwork is done. We need to apply the fullest extent of the law against these groups. They have been making a mockery of our laws and the agency itself for believing that their modus will work every single time," he said.
The consignees declared the shipments as frozen prawn balls but upon examination, Customs agents found frozen meat, garlic short rib, and smoked duck breast in the containers.
The CIIS-MICP first requested the issuance of Pre-Lodgement Control Orders (PLCOs) on these shipments last Dec. 7 for suspected violation of the Customs Modernization and Tariff Act (CMTA).
Customs Deputy Commissioner retired Maj. Gen. Juvymax Uy said the latest operation was successful after proper coordination among the different departments.
"This demonstrates the accuracy of the information we get from our sources and the immediacy by which we act to eventually put these people behind bars. As an agency that work against syndicates, smugglers, and many other criminal groups, we are always up against a big challenge but I'm also confident our team can handle it," he said.
Victory JM Enterprise OPC will face charges for the possible violation of Sec. 1400 (misdeclaration in goods declaration) in relation to Sec. 1113 (property subject to seizure and forfeiture) of the CMTA.
The examiners also recommended the issuance of a Warrant of Seizure and Detention (WSD) on the shipment.
On the other hand, CIIS Director Jeoffrey Tacio recognized what he called the "invaluable contribution" of everyone in the operation, including inputs from the Department of Agriculture (DA).
The DA, in partnership with BOC, is likewise pursuing agricultural smugglers. Just recently, it intercepted suspicious shipments at the Port of Subic with BOC.
"This is hard won. Every successful operation for us is like threading a needle. We have to work together seamlessly for everything to fall into place. Seizing these smuggled items and arresting the responsible individuals are the end goal for every operation," he said. (PNA)