By Christopher Lloyd Caliwan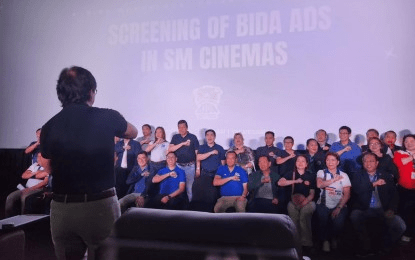 MANILA – As the government continues to intensify its anti-illegal drug campaign, the Department of the Interior and Local Government (DILG) said Sunday that the "Buhay Ingatan, Droga'y Ayawan" (BIDA) advertisement will be played in 74 SM Cinema branches nationwide.
The 30-second infomercial video, being shown on 348 screens in 74 SM Cinema branches across the country, was launched at SM Megamall in Mandaluyong City over the weekend. It is aimed at raising moviegoers' awareness about the ill effects of illegal drugs and urging them to help the government fight it.
DILG Secretary Benhur Abalos thanked SM Prime Holdings for being a BIDA partner and helping the government in its crusade against illegal drugs.
The free showing of the BIDA ad will massively help the program's cause, Abalos said, adding that it is expected to reach an estimated 2.5 million viewers.
At the same time, the ad will be exposed to 53.8 million followers of SM's digital-owned assets, while the e-poster format of the BIDA ad will be posted in 250 mall directories that could be seen by four million mall goers every day, Abalos added.
It was not mentioned how long the infomercial will be available in SM cinemas.
Other than the screening of the BIDA ads, SM pledged to conduct annual physical and drug tests and seminars for employees; implement strict security procedures in SM Malls including roving K9s; use venues for events, training, and information dissemination; conduct activities such as health and fitness-related campaigns; job fairs; recreational activities; and information dissemination in SM's digital assets.
Earlier, DILG's BIDA Program bagged the international Government Media Awards for the National Social Welfare Initiative of the Year category in Singapore.
Abalos said the international recognition received by the Philippines for the BIDA program is a toast to the initial success and efforts of President Ferdinand R. Marcos Jr.'s administration to address the illegal drug problem.
"The recognition from Gov Media has elevated the BIDA program to the international stage, where it can serve as a platform for the Philippines to strengthen inter-country cooperation in combatting the global problem of illegal drugs," said Abalos. (PNA)