By Ferdinand Patinio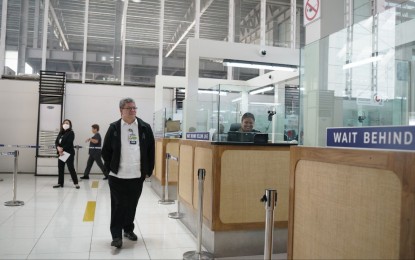 MANILA – Two females who posed as Muslims to be able to leave the country and work abroad were recently intercepted by officers of the Travel Control and Enforcement Unit (TCEU) of the Bureau of Immigration (BI) at the Ninoy Aquino International Airport (NAIA) Terminal 3.
Based on its report to Commissioner Norman Tansingco, the new modus of human trafficking syndicates was unraveled after the interception of two females, 36 and 37 years old, when they attempted to depart on board a Cebu Pacific flight to Dubai at the NAIA last April 14.
The two victims claimed they were Muslim pilgrims and are planning to travel by bus to the Kingdom of Saudi Arabia to participate in Umrah. Both also claimed that they recently converted to Islam and plans to stay for 7 days in the Arab states.
However, during the interview, BI officers noted numerous inconsistencies in their statements. They later admitted that their documents were fabricated, and were recruited to work as household service workers via Facebook by a woman that processed their visas and tickets.
Both added that they were instructed to pose as Muslims to be able to depart the country.
The two were turned over to the inter-agency council against trafficking for further investigation and to initiate cases against their recruiter.
The BI chief is disappointed after learning about the new scheme by unscrupulous groups.
"These traffickers will stop at nothing to earn from their racket. They have even abused religion to evade immigration inspection," the BI chief said in a statement.
He again warned would-be overseas Filipino workers (OFWs) to transact only with government agencies that are tasked to provide employment abroad.
Meanwhile, Tansingco expressed gratitude to the Legislative Executive Development Advisory Council (LEDAC) for identifying the proposed immigration modernization law as a priority measure.
He thanked the Presidential Legislative Liaison Office (PLLO) for supporting the passing of the new law by organizing a focus group discussion (FGD) held last April 13 in Manila. Also in attendance were representatives of at least nine senators, to reconcile versions to expedite the bill's approval.
The BI chief is hoping that the bill will be approved on third reading prior to the President Ferdinand R. Marcos Jr.'s State of the Nation Address.
"Imagine, our law has been there even before international flights were operating in the Philippines. Many of its provisions are already outdated, and not applicable to modern times," he said.
"In behalf of the employees of the BI, we also thank our legislators for ensuring that the use of income for the augmentation of the salaries of employees remain," said Tansingco. "This would greatly benefit our employees that are stuck with low salaries, and would also allow us to recruit fresh graduates to join the government." (PNA)