" ©2012 YouTube, LLC"]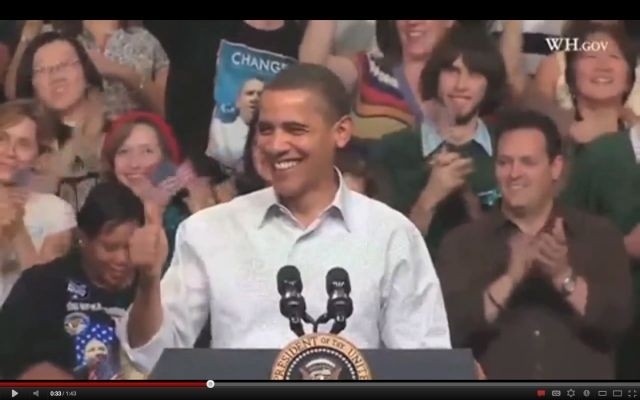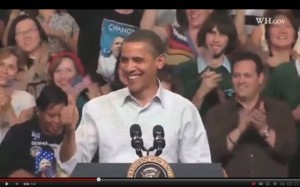 (Relaxnews) – YouTube channel Barackdubs has scored another viral hit with a video of US President Barack Obama singing LMFAO's "Sexy And I Know It."
Barackdubs is a popular YouTube channel which features clips of speeches from the US President cut together and set to music to make it appear as if Barack Obama is singing along to a popular song. The channel previously had a hit with Lady Gaga's "Born This Way."
The latest effort from Barackdubs, titled "Barack Obama Singing Sexy and I Know It by LMFAO [OFFICIAL]," has become a viral hit, attracting over one million views since being uploaded three days ago on March 26.
In the style of the previous Barackdubs hits, the video is made by cutting together speeches to form the lyrics of the song — prompting YouTube user unnomedeutilizador to say, "I'd like to know in which circumstance did he say 'sexy'…"
YouTube statistics show that the video surged in popularity after surfacing on reddit.com and then being shared across Facebook. According to YouTube the video is most popular among men aged 18-24 and women aged 18-24 living in the United States, Canada, Brazil, Europe and Australia.
As of 2pm GMT March 29, YouTube Trends showed that the video was the second most shared in the USA, third most shared in Australia and fourth most shared in the United Kingdom.
The US President is actually somewhat of a singer: a video of Barack Obama singing part of an Al Green song went viral in January and a separate video of the President singing "Sweet Home Chicago" at the White House's Red, White and Blues event in February was also a hit on YouTube.
"Barack Obama Singing Sexy and I Know It by LMFAO [OFFICIAL]" can be seen on YouTube at: http://www.youtube.com/watch?f&v=OWgO9-AIROI#!
For those not familiar with the song, the original version by LMFAO can be found on YouTube at: http://goo.gl/jvllU (requires age restricted sign in).