By Benjamin Pulta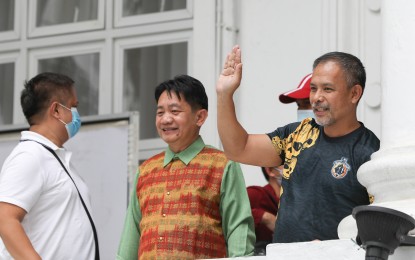 MANILA – Gerald Bantag, the suspended Bureau of Corrections (BuCor) director general, and deputy security officer Ricardo Zulueta, suspects in the killing of a broadcast journalist and an inmate under their watch, have been placed on the immigration lookout bulletin order (ILBO).
The urgent memorandum from the office of Department of Justice (DOJ) Secretary Jesus Crispin Remulla, dated December 7 and shared with the media on Tuesday, directed Bureau of Immigration Commissioner Norman Tansingco to enforce the ILBO against Bantag and Zulueta.
"Considering the gravity of the offense charged in the criminal complaints, there is a strong possibility that respondents may attempt to place themselves beyond the reach of the legal processes by leaving the country. Thus, this department deems the issuance of an ILBO against the above subject-individuals prudent in order to at least monitor the itineraries of their flight, travel, and/or whereabouts," read the memo.
The ILBO is for monitoring purposes only and cannot prevent Bantag and Zulueta from leaving the Philippines.
An actual hold departure order to prevent an individual from exiting the country may only be validly issued by a court where an individual is charged, according to the law.
Copies of the ILBO were also sent to the National Prosecution Service, Philippine National Police, and National Bureau of Investigation.
Bantag previously questioned the jurisdiction of the DOJ prosecution panel conducting the preliminary investigation against him, Zulueta, and other inmates implicated in the murder of Percival "Percy Lapid" Mabasa on October 3 and the subsequent death of inmate Jun Villamor at the New Bilibid Prison Hospital in Muntinlupa.
Villamor was allegedly one of those who brokered the murder contract to kill Mabasa, according to self-confessed gunman Joel Escorial.
Bantag argued that being a high-ranking official, the case against him may only be investigated by the Ombudsman. (PNA)