By Christopher Lloyd Caliwan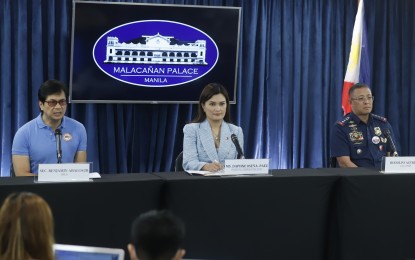 MANILA – Department of the Interior and Local Government (DILG) Secretary Benjamin Abalos Jr. announced on Wednesday the names of three more members of the five-man committee that will assess the courtesy resignations submitted by police generals and colonels and their possible involvement in illegal drugs.
In a Palace briefing, Abalos said the three additional members are Philippine National Police (PNP) chief, Gen. Rodolfo Azurin Jr., former defense secretary Gilberto Teodoro and retired police general Isagani Nerez.
The three would join retired police general and Baguio City Mayor Benjamin Magalong and another member who refused to be named publicly, Abalos said.
"Mataas ang respeto natin sa limang volunteer advisors na ito na tumanggap ng napakahirap na hamon at responsibilidad na magsagawa ng imbestigasyon upang patuloy na masugpo ang iligal na droga sa bansa (We have high respect for these five volunteer advisors who accepted the very difficult challenge and responsibility of conducting investigations to continue to suppress illegal drugs in the country)," Abalos said.
Abalos said he expects the body to conduct a fair an impartial assessment "because they are known to have credibility, integrity and a good track record in their respective fields.
The advisory group will screen the courtesy resignations of senior PNP officials along with the National Police Commission (Napolcom).
"I am definite that this advisory group shall remain apolitical throughout the process of screening and in the end penalize only those guilty and involved in the illegal drugs trade. Rest assured that the government is working continuously to gain renewed and better trust in the Philippine National Police of the public as our police remain committed to our mandate to serve and protect," he added.
Magalong is a graduate of the Philippine Military Academy (PMA) and has served the police organization for 38 years. He led the investigation on the Mamasapano bloody encounter between the Bangsamoro Islamic Freedom Fighters(BIFF) and policemen, which resulted in the killing of 44 Special Action Force troopers and Malaysian terrorist and bomb expert, Zulkifli Bin Hir, one of the primary targets of the operation.
He also took part in the Senate investigation on "ninja cops" or those policemen involved in the recycling of illegal drugs being recovered in the conduct operations by selling them back on the streets in 2019.
Teodoro served as Defense Secretary under the administration of former President Gloria Macapagal-Arroyo. He finished law at the University of the Philippines, topped the 1989 bar exams and obtained a master's degree in law at Harvard University. He also served as the representative of the first district of Tarlac from 1998 to 2007.
Nerez is a member of PMA Maharlika Class of 1984. He is also a lawyer who served in various capacities in the units of the Philippine National Police such as the Police Anti-Crime Emergency Response and the Directorate for Integrated Police Operations, Eastern Mindanao. He was also part of the PNP Special Action Force, Presidential Anti-Organized Crime Task Force, and the PNP Anti-Kidnapping Group.
In August 2022, President Ferdinand R. Marcos Jr. appointed Nerez as Undersecretary for Police Affairs of the Office of the Presidential Adviser on Military Affairs (OPAMA).
Abalos, meanwhile, said the President did not accept Azurin's courtesy resignation.
"Ini-screen na siya at nag-usap kami ng Presidente tungkol dito (He has been screened and the President and I have talked about it) and it is only but proper since, obviously, hindi tinanggap ang kaniyang resignation (his resignation was not accepted), he is needed there to steer the committee. He's in the position to give recent intelligence report," said Abalos.
Out of the 955 police colonels and generals, Abalos said 12 did not submit their courtesy resignation but only one is considered not compliant since five of them were already retired while six are retiring soon.
Abalos said the lone official cited "personal prerogative" in refusing to comply with the measure.
However, he said this will not spare the lone official from the investigation for possible involvement on illegal drugs.
"We fully respect his right, as I've told you before, we are not ordering or commanding anyone, it was just an appeal, I would like to repeat it's an appeal, no sanctions will be done, nothing at all, pero, but siyempre aalamin namin bakit ano, bakit ayaw nya, yun aalamin talaga namin ng husto yun (of course we will find out why, why he doesn't want, we will really look into it), but other than as I've told people time and again and assured the police, no sanctions," Abalos said.
In the next three months, Abalos said the committee will conduct an investigation on the police officials and will submit the names of those whose resignations are accepted to the Napolcom for another round of verification before submitting their recommendation to the President.
He reiterated that monitoring, investigation and case build-up against other police personnel will continue amid the intensified internal cleansing in the police organization.
Azurin, meanwhile, said he is honored and grateful to the President for appointing him to the body.
"I know this is very challenging and daunting task, but I see this as a recognition of the trust and confidence by no less than our President Ferdinand Marcos Jr. Maraming salamat po Mr. President sa tiwalang ito (Thank you very much Mr. President for your trust). This moment in the PNP's transformation journey will surely carve a mark in the nation's history, and I am proud to be part of it," Azurin said in a statement. (PNA)