By Filane Mikee Cervantes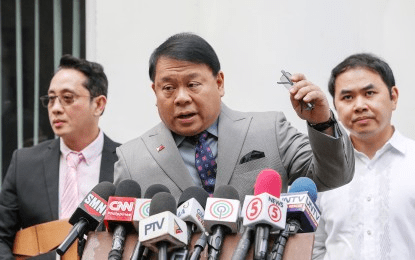 MANILA – The legal counsel of House Deputy Speaker Gloria Macapagal-Arroyo on Tuesday expressed confidence that the complaints for graft and malversation against the former President for allegedly misusing PHP38.8 billion of the Malampaya fund will be dismissed.
In a statement, lawyer Ferdinand Topacio said they have yet to receive the official copy of the complaint filed before the Office of the Ombudsman by Petronilo Ilagan of the National Association of Energy Consumers for Reforms, Inc. (Nasecore) and Rogelio Reyes of Boses ng Konsyumer Alliance, Inc. accusing Arroyo of abusing her presidential discretion by disbursing the fund out of its intended use.
"We cannot make any specific comments as of this time. Suffice it to state that based on newspaper reports, the complainant admits that the funds concerned were used for public purposes," Topacio said.
The lawyer emphasized that the public funds were used in accordance with existing laws.
"Therefore, in accordance with settled legal principles, President Arroyo has done no wrongdoing during her term, and we are confident that these charges will be proven false, in the same manner that other accusations made before them have been shown to be baseless," he said.
The complaint was based on a 2017 Commission on Audit (COA) report showing that Arroyo disbursed a total of PHP38.807 billion from the government's share in the Malampaya fund, which was categorized by the audit body as improper due to non-compliance with existing laws, rules and regulations.
The complainants said the funds in question went to various projects not covered by Presidential Decree No. 910, such as agriculture, irrigation, calamity rehabilitation, relocation and housing projects, infrastructure and transportation, among other "unrelated projects."
Under Presidential Decree No. 910, the Malampaya Fund should be used for projects related to "the exploration, exploitation and development of indigenous energy resources vital to economic growth." (with reports from Benjamin Pulta/PNA)