By Alexander Lopez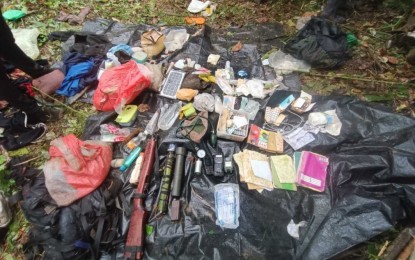 BUTUAN CITY—Government troops from the Army's 26th Infantry Battalion (26IB) overran an encampment of the communist New People's Army (NPA) over the weekend following a skirmish in the hinterlands of Barangay Lydia, La Paz, Agusan del Sur.
The 20-minute encounter resulted in the recovery of a carbine rifle loaded with ammunition, a rifle grenade, a 40mm ammunition, a handheld radio, medical supplies and subversive documents.
Lt. Col. Sandy Majarocon, the commander of 26IB, said the 15 NPA rebels they encountered on Saturday belong to Platoon Sagay, Sub-Regional Committee 3 of the North Central Mindanao Regional Committee.
"After the firefight, the rebels scampered to different directions abandoning their encampment where the troops recovered the war materials, medical supplies and personal belongings," Majarocon said in a statement Monday.
He added that troops were sent to the area after the civilians reported the presence of the rebels.
"The civilians were alarmed and threatened by their presence in their community," Majarocon said, noting the "courage" of the residents in reporting the presence of armed men.
"The timely report of the civilians helped our troops to effectively disrupt the planned atrocities of the NPA in the said community," Majarocon said.
He also assured the people of Agusan del Sur of the readiness of the 26IB troops to respond to reports "on the presence and atrocities" of the communist rebels in communities. (PNA)