By Priam Nepomuceno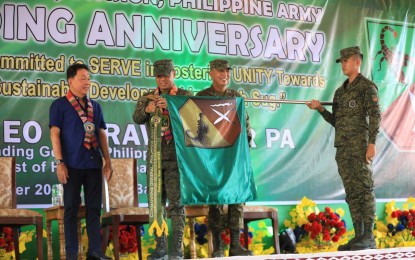 MANILA – Philippine Army (PA) chief Lt. Gen. Romeo Brawner Jr. has commended the 11th Infantry Division (11ID) for its efforts in combating the Abu Sayyaf Group (ASG) via intelligence-driven operations as it marked its fourth founding anniversary on Thursday.
Brawner graced the celebration at the unit's headquarters at the Kuta Heneral Teodulfo Bautista, Busbos in Jolo town, Sulu province.
The Army chief also recognized the 11ID, also known as the "Alakdan" Division, for the recovery of assorted high- and low-powered firearms, and facilitation of the implementation of developmental projects for the internally displaced persons through the "Balik Barangay Program" in collaboration with the provincial and local government units of Patikul and Talipao, Sulu.
"(He) lauded the unit's effort in maintaining lasting peace and progress in its areas of responsibility since its inception in 2018," PA spokesperson Col. Xerxes Trinidad said in a statement Friday.
During the celebration, Brawner also led the awarding of plaques to the best battalion, officers, enlisted personnel, and stakeholders.
"To the gallant servant-soldiers of the 'Alakdan' Division, continue to focus on your primary objective of defeating and eliminating the remaining elements of local terrorist groups within your area of operations. We shall continue to pursue and promote the Philippine Army's primordial objectives as enshrined in the acronym, S.E.R.V.E. I am certain that together with the steadfast convergence support of our partner-stakeholders, we will restore the old glory and facilitate a prosperous future for the people of Sulu," Brawner said. (PNA)