By Priam Nepomuceno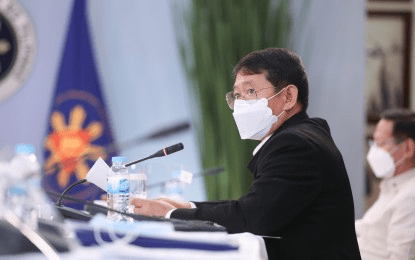 MANILA – National Security Adviser (NSA) Eduardo Año on Tuesday hailed President Ferdinand R. Marcos Jr. for the issuance of Executive Order (EO) 37 adopting the National Security Policy (NSP) 2023-2028.
"We thank the President for approving and adopting the new National Security Policy under his administration. This shall serve as a guide for the entire government," Año said in a statement Tuesday.
Año, who is also the National Security Council (NSC) head, said the NSP 2023-2028, was crafted by the agency in line with Marcos' vision of a free, united, secure and prosperous Philippines.
He added NSP 2023-2028 will also provide the guidelines for addressing the country's national security needs and concerns in the next five years highlighting the crucial connection between security and development.
The NSP 2023-2028 is the Philippines' third such national security policy document that contains the guiding principles and interests for the protection and promotion of our national security.
It also outlines policy objectives and priority areas to guide the state in its efficient allocation of its resources and capitalization of its core strengths for the attainment of a peaceful and prosperous nation.
Año stressed the National Security Policy will be vigorously pursued across all government agencies and that they will take the lead in mainstreaming the said policy not only in government agencies but across Philippine society.
He said the NSP 2023-2028 "aims to complement the medium-term Philippine Development Plan 2023-2028, as well as contribute to the realization of the long-term national dream of a 'Matatag, Maginhawa, at Panatag na Buhay' (Stable, Comfortable, and Peaceful Life) by the year 2040."
Año added that the national security goals identified in the NSP 2023-2028 are based on an assessment of our ever-changing strategic environment, while also noting the country's socio-political values, fundamental laws and core national interests.
Under EO 37, the President directed all national government agencies and instrumentalities including government-owned and controlled corporations (GOCCs) and local government units (LGUs) to adopt NSP 2023-2028 in the formulation and implementation of their security-related strategies and programs.
"There is a need for all national security-related strategies, along with the plans and programs of all national government agencies and instrumentalities to be aligned with the NSP 2023-2028. This alignment is vital for the successful whole-of-government and whole-of-society implementation of the policy document," Año emphasized.
The EO further stated that the National Security Council Secretariat, through the NSA, shall serve as the principal body for the monitoring of the implementation of the NSP 2023-2028.
The monitoring will be conducted by coordinating with various national government agencies and instrumentalities, GOCCs and LGUs.
Año also expressed his commitment to the effective implementation of the NSP 2023-2028, which now serves as the Philippines' roadmap in ensuring that the country's "sovereignty, territorial integrity, national interests, and the well-being of its people and institutions are preserved, protected, and enhanced." (PNA)