By Priam Nepomuceno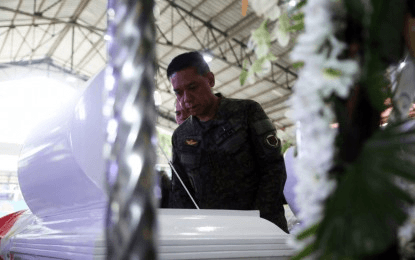 MANILA – The Armed Forces of the Philippines (AFP) honored the bravery and commitment of the five Citizens Armed Forces Geographical Unit Active Auxiliary (CAFGU-CAA) members who were killed in action during an encounter with New People's Army (NPA) rebels in Barangay Mapulot, Tagkawayan, Quezon on Sept. 1.
At the same time, AFP chief Gen. Romeo Brawner Jr. deplored the insurgents' continued use of outlawed anti-personnel mines (APMs).
Brawner visited on Friday the wake of slain CAA members Johnven Perez, 18; Jomarie Lim Guno, 19; Aldon James Rafa, 19; Jeffrey San Antiono, 29; and Cesar Sales, 49, according to an AFP news release on Sunday.
After military honors, they were laid to rest Friday in a section called "Libingan ng mga Bayani" (Heroes' Cemetery) of the municipal cemetery.
A soldier and two other CAFGU members were wounded in the clash at the boundary of Tagkawayan and Labo in Camarines Norte.
"In the solemn wake of five courageous CAFGU members who made the ultimate sacrifice in the line of duty, the CSAFP (Chief of Staff AFP) witnessed in awe their heroism and gallantry. These valiant personnel displayed unwavering dedication to safeguarding our nation, facing danger with unyielding resolve," AFP public affairs office Lt. Col. Enrico Gil Ileto said.
"Their selfless commitment to defending our homeland serves as a testament to the indomitable spirit that resides within our armed forces. Their sacrifice will forever be etched in the annals of our military history, a reminder of the profound courage exhibited by those who wear our nation's uniform," Ileto added.
Ileto said Brawner condemned the use of banned APMs.
"Their attack on government troops and use of banned APMs proved once again their apt designation as a terrorist organization with their wanton disregard and continued violation of the International Humanitarian Law's ban on the manufacture, transport, stockpile and use of anti-personnel mines," Ileto said.
The international community adopted the 1997 APM Ban Convention prohibiting the acquisition, production, stockpiling, and use of the weapons.
More than 160 states are party to the APM Ban Convention that went into effect in 1999.
Meanwhile, six NPA rebels were killed and seven high powered firearms were captured in successive encounters between the Army's 47th Infantry Battalion and remnants of the defunct Bohol Party Committee in Barangay Campagao, Bilar, Bohol on Sept. 7.
Ileto said the encounter further eroded the capability of the communists and brought the AFP closer toward a complete victory in the Visayas region. (PNA)