By Priam Nepomuceno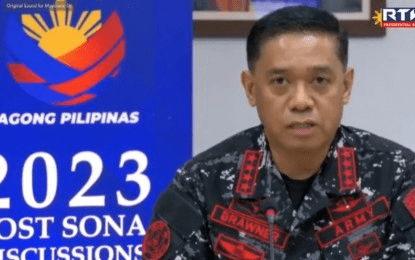 MANILA – The Armed Forces of the Philippines (AFP) is looking to acquire multi-role fighters, additional naval assets and shore-based deterrents for Horizon 3 of its ongoing modernization program.
"For the 3rd Horizon of the (AFP) modernization program we are looking at acquiring multi-role fighter aircraft, naval assets, command and control or C-2 systems, shore-based deterrent capabilities, submarines and the like," AFP chief Gen. Romeo Brawner Jr. said during the post-State Of the Nation Address (SONA) briefing held at the Hilton Hotel Manila, Pasay City Wednesday afternoon.
Brawner said the AFP is "very fortunate" to have President Ferdinand R. Marcos Jr. as their commander in chief as the Chief Executive is very supportive of the military's modernization program.
Horizon 3 is slated for 2023 to 2028 while Horizon 2 was from 2018 to 2022 and Horizon 1 in 2013 to 2017.
These procurement tranches are designed to acquire equipment, weapons systems and platforms geared at enhancing the external or territorial defense capability of the AFP.
Some of the platforms procured in the ongoing AFP Modernization Program include the S-70i "Black Hawk" combat utility helicopters, missile frigates, close air support aircraft, air defense surveillance radars, unmanned aerial vehicles or drones, corvettes, anti-submarine helicopters, light tanks, tactical radios, amphibious assault vehicles, civil engineering equipment and modern pistols.
In line with the ongoing military upgrades, the AFP chief said that they are looking at the possibility of developing their cyber warfare capability.
"But one thing that we would like to really develop in the next (few) years is the capability for cyber warfare and this is one capability where we could excel in the AFP and we could be at par with even the modern countries," he added.
Aside from modern equipment, Brawner also said that the AFP is also focusing on the training of military personnel so that they can "really cope with the demands of the regional threats" and that they are able to use and maintain these platforms properly.
"Kailangan po nating alagaan din itong mga (we really need to take care of these) modern equipment, we have to sustain them properly," he added.
Marcos, in his second SONA last July 24, assured continued efforts to strengthen the country's police and military to ensure "strong and stable rule of law" as the foundation of the country's transformation.
"Our police and armed forces are being strengthened and modernized, to be more effective in maintaining peace and order and in defending our sovereignty," the Chief Executive said.
Also, Brawner said the AFP will also help in the propagation of the "archipelagic mindset" mentioned by the Chief Executive.
"We will help our citizens develop that mindset of patriotism, being able to defend our country from any threats whether it is manmade or natural," he added. (PNA)