By Priam Nepomuceno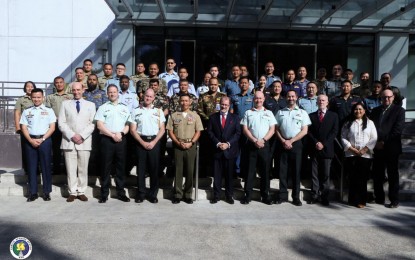 MANILA – The Armed Forces of the Philippines (AFP) and the Canadian Armed Forces will host a five-day military operational course in Clark, Pampanga which kicked off on Monday.
Some 35 officers from the AFP and the armed forces of Bangladesh, Indonesia, Mongolia, Malaysia, Nepal, Thailand and Vietnam are participating in the course, military public affairs office chief Col. Jorry L. Baclor said in a statement.
"Ambassador David Hartman, Canadian Ambassador to the Philippines graced the event. The Chief-of-Staff, AFP, Gen. Andres Centino, represented by (Marine) Brig. Gen. Noel D. Beleran, the Deputy Chief-of-Staff for Education, Training and Doctrine, J-8 extends his appreciation to the Embassy of Canada in the Philippines and the Department of National Defense of Canada for sponsoring the course," he added.
Baclor, quoting Beleran, emphasized that the AFP puts primacy on fostering stronger and broader collaboration with foreign counterparts.
"This is truly significant for the AFP as this marks the robust partnership between the Philippines and Canada that particularly benefits the AFP in terms of capability enhancement," Beleran said.
The Canadian Embassy earlier said Ottawa is hoping to finalize and sign a defense cooperation deal with Manila on the margins of the Shangri-La Dialogue in June.
Canada is also looking for opportunities to increase its participation in exercises in the absence of a Visiting Forces Agreement or a Status of Visiting Forces Agreement similar to what the Philippines has with the United States or Australia. (PNA)