By Christopher Lloyd Caliwan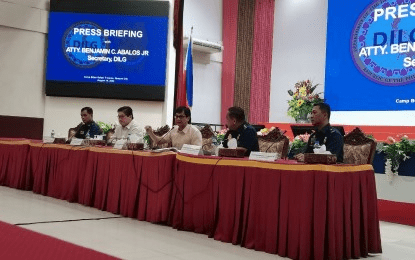 MANILA – Department of the Interior and Local Government (DILG) Secretary Benjamin Abalos Jr. on Monday said he wants a more flexible policy in the relief of erring police commanders.
Under the current policy, police commanders can be removed if they are found to be remiss in their duties or if their personnel are involved in illegal activities, but only after three instances.
"What we see is giving more flexibility to our chief PNP (Philippine National Police). While the three-strike policy is good, he does not have to wait for three strikes if he thinks that the lapses have magnitude effects. He could remove (the commander) immediately… we should have that elbow room to the chief PNP as far as I am concerned," Abalos said in a press briefing in Camp Crame, Quezon City.
Abalos said it is part of the review of the doctrine of command responsibility within the PNP following incidents of lapses among police officers.
The most recent ones are the death of a teenager in a case of mistaken identity in Navotas City and the involvement of police officers in alleged robbery extortion in Cavite.
Aside from giving more power to the PNP chief to immediately remove non-performing police commanders, Abalos said they are still checking if the police operational procedures are updated since there are old terminologies that were sourced from old laws.
He said that everything that the police did during the operation in Navotas on Aug. 2, which resulted in the death of 17-year-old Jerhode Jemboy Baltazar, was wrong.
"Mali talaga 'yun eh. Maling mali ang nangyari rito. Unang una warning shot, nasa procedure 'yan eh at ang pinakamali sa lahat, babaril ka na lang ng basta basta tapos nandun, hindi mo manlang kinuha 'yung bata. Lahat mali kaya nakakagalit eh (It is really wrong. What happened here was wrong. First warning shot, that's in the procedure and the worst of all, you just shoot randomly and then there, you didn't even take the child. Everything is so wrong and it's really enraging)," Abalos stressed in a press conference.
Abalos assured that the investigation is continuous amid concerns about the seemingly watered-down criminal charges filed against the policemen involved.
Baltazar was killed after he was mistaken by the police for a murder suspect. The victim was then preparing a boat for fishing.
According to Baltazar's companion, the teenager jumped off the water upon seeing the police who wantonly fired shots.
The six policemen involved were charged with reckless imprudence resulting in homicide, which is bailable, and are currently detained at the Navotas City Police Station.
They are also facing investigation along with their two immediate supervisors with the Internal Affairs Service.
All 27 personnel of the sub-police station where the six policemen belong were also relieved and transferred for retraining.
Baltazar's kin said murder charges should be filed against the policemen, noting that the victim was unarmed.
Abalos said based on reports, it took around three to five hours before Baltazar's body was recovered from the river. It was also only then that the investigators arrived at the crime scene.
Based on his death certificate, Baltazar's cause of death was a gunshot wound to the head, as well as asphyxia from drowning.
"Hindi bale, lahat naman ito ay talagang iniimbestigahan ngayon. Charges have been filed and we will make sure we will act swiftly on this. 'Yun ang pangako namin na hustisya sa pamilya (It doesn't matter, it's all really being investigated now. Charges have been filed and we will make sure that we will act swiftly on this. That is our promise to the family to give justice)," said Abalos.
He said it will be up to the courts to decide whether or not to amend the case against the suspects.
To avoid such incidents from happening again, the PNP said it will strengthen programs to continue educating their personnel, especially on rules of engagement and patrolling.
However, Abalos denied the breach of discipline in the police organization and said such incidents were "isolated cases."
What is important is the swift action of the leadership to correct and punish the suspects, he said.
From July 1, 2022 to Aug. 2 this year, a total of 583 policemen were dismissed from the service over various violations while 129 were demoted, 978 were suspended, 81 were meted with forfeiture of salary, 424 were reprimanded, 61 were restricted and 48 were withheld privileges, said Abalos.
PNP spokesperson Col. Jean Fajardo said the dismissal of erring cops is part of the commitment of the police organization to cleanse its rank of those who are not fit to continue their services. (PNA)