By Christopher Lloyd Caliwan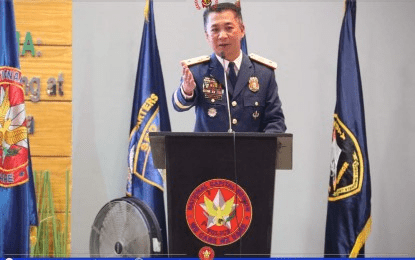 MANILA – National Capital Region Police Office (NCRPO) chief Brig. Gen. Jose Melencio Nartatez has approved the dismissal of eight police officers from the service in connection with the death of 17-year-old Jerhode "Jemboy" Baltazar in a case of mistaken identity in Navotas City last month.
In a 10-page resolution dated Sept. 13 and released Friday, Nartatez said there was "substantial evidence" to hold Captains Mark Joseph Carpio and Luisito dela Cruz; Executive Master Sgt. Roberto Balais Jr.; Staff Sergeants Antonio Bugayong Jr., Gerry Maliban and Nikko Pines Esquillon; Cpl. Edmard Jake Blanco and Pat. Benedict Mangada administratively liable for the killing of Baltazar.
"The inconsistencies in the affidavits they submitted in the summary hearing proceedings and the one executed on the same day of the incident.. are clear attempts to evade responsibility and accountability for their action," Nartatez said.
Team leaders Carpio and dela Cruz were dismissed for serious grave neglect of duty because they did not personally supervise their team during the operation.
"The cited instances from direct evidence of their failure to supervise the operation hence, there is no iota of doubt, based on the above findings and factual milieu, that respondents PCO (police commissioned officers) were remiss of their duty as immediate supervisors," read the resolution.
NCRPO spokesperson Lt. Col. Eunice Salas said the eight cops have 10 days to file a motion for reconsideration.
"If they opt not to file an appeal, the RD (regional director) will sign a certificate of finality. After that, they will be issued an order of dismissal from the service," Salas told the Philippine News Agency in a phone interview.
Once dismissed, the police officers' benefits would be forfeited and would be meted with revocation of eligibility. They would also be perpetually disqualified from holding any other government posts.
Charges for reckless imprudence resulting in homicide have also been filed against the six cops.
5 Manila cops in robbery-extortion also dismissed
Nartatez also approved the dismissal of five members of the Manila Police District (MPD) who were accused of extorting PHP40,000 from a computer shop owner in Sampaloc, Manila, in July.
Staff Sergeants Ryan Tagle Paculan and Jan Erwin Santiago Isaac, Cpl. Jonmark Gonzales Dabucol; and Patrolmen Jeremiah Sesma Pascual and Jhon Lester Reyes Pagar, all assigned with the MPD District Police Intelligence Operations Unit (DPIOU) reportedly broke into the computer shop and introduced themselves as police officers who were conducting an operation against online gambling.
The cops, who were in plain clothes that time, insisted that the police operation was legitimate and that the computer shop was running illegal activities such as online casinos. (PNA)