By Marita Moaje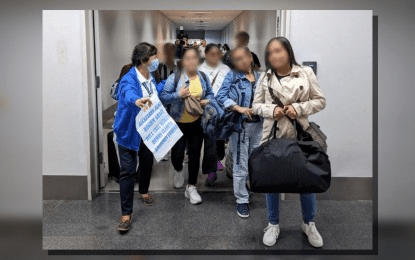 MANILA – Six overseas Filipino workers (OFWs) from Lebanon arrived in the country Friday, the second batch of repatriates to escape the escalating tension between Israel and the Lebanese militant group Hezbollah, according to the Department of Migrant Workers (DMW).
A total of 10 OFWs have been repatriated by the Philippine government from Lebanon so far, after the first batch composed of four individuals returned last Oct. 28.
DMW officer-in-charge Undersecretary Hans Leo Cacdac welcomed the returning OFWs who arrived at the Ninoy Aquino International Airport Terminal 3 via Emirates Airways flight EK336.
"The six were led to the Bureau of Quarantine station for initial physical and medical check-up," DMW spokesperson Toby Nebrida said.
In an earlier interview, Cacdac said that 124 OFWs in Lebanon have requested to be repatriated to the country amid the ongoing conflict between Israel and Hezbollah near the Lebanon border.
There are about 3,000 Filipinos living in southern Lebanon according to the Department of Foreign Affairs (DFA).
On Oct. 21, DFA raised the Crisis Alert Level 3 in Lebanon, urging Filipinos to leave the area.
Hezbollah is a Hamas ally and both have been designated a terrorist organization by the United States and other countries.
Recently, tension increased after cross-border missile attacks were launched along Israel's northern border with Lebanon. (PNA)