By Christopher Lloyd Caliwan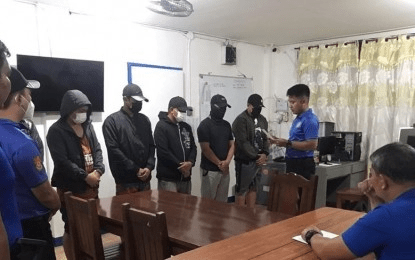 MANILA – The six dismissed police officers wanted for murder over the death of 17-year-old Jerhode Jemboy Baltazar in a case of mistaken identity surrendered to authorities in Quezon province on Wednesday.
In a report on Thursday, Criminal Investigation and Detection Group (CIDG) director Maj. Gen. Romeo Caramat Jr. said Executive Master Sgt. Roberto Dioso, Cpl. Edmard Blanco, Pat. Benedict Mangada, and Staff Sgts. Gerry Maliban, Antonio Bugayong, Jr. and Nikko Esquillon, all formerly assigned to Navotas City police station, yielded to the CIDG Quezon Provincial Field Unit (PFU) at Camp Guillermo Nakar in Lucena City at around 5 p.m.
Caramat said the suspects underwent booking procedures and documentation.
The suspects would remain under the CIDG's custody while awaiting a commitment order from the court on their detention.
The Navotas City Region Trial Court (RTC) ordered on Tuesday the arrest of the suspectsThey after it found probable cause to issue an arrest warrant against them over the death of Baltazar.
The court recommended no bail for their temporary liberty.
Earlier, the National Capital Region Police Office approved the Philippine National Police-Internal Affairs Service's recommendation to dismiss the respondents from the service over the killing of Baltazar.
On Aug. 2, the police officers launched a pursuit operation against a murder suspect when they chanced upon Baltazar, who was then onboard a boat.
They then commanded Baltazar and his companion to surrender. However, the victim jumped into the river, prompting law enforcers to fire resulting in his death.
The police officers later admitted that Baltazar was not the suspect they were looking for but a certain Reynaldo Bolivar. (PNA)