By Ruth Abbey Gita-Carlos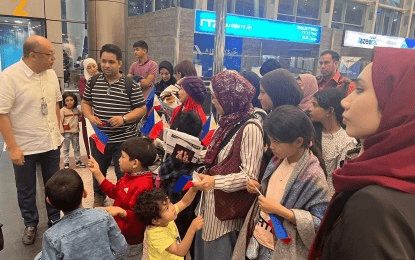 MANILA – About 56 Filipinos from the Gaza Strip are now on their way to Cairo after being allowed to cross the Rafah border crossing, President Ferdinand R. Marcos Jr. said Friday.
In a post over X, formerly Twitter, Marcos expressed elation over the safe evacuation of 56 more Filipinos from Gaza amid the Israel-Hamas conflict.
"Happy to hear the update that 56 more Filipinos have left Gaza amid the Israel-Hamas conflict, joining the 42 who had previously crossed. This brings the total to 98 out of the 137 originally in Gaza, now en route to Cairo," the President said.
"The safe journey of our nationals is of utmost importance, and we look forward to welcoming them home."
Marcos said at least 34 of the evacuated Filipinos have already boarded their flight to Qatar and are expected to arrive home at 4:30 p.m. on Friday.
There were a total of 137 Filipinos in the Gaza Strip when the Israel-Hamas war broke out on Oct. 7.
Two Filipino medical workers crossed the Rafah border last week, followed by 40 others on Wednesday.
On Thursday, the Department of Foreign Affairs (DFA) said the Rafah border crossing was closed due to "security reasons."
The DFA assured that it has a standby fund of USD297,746 (approximately PHP16 million) to finance the repatriation of Filipinos from Gaza. (PNA)