By Priam Nepomuceno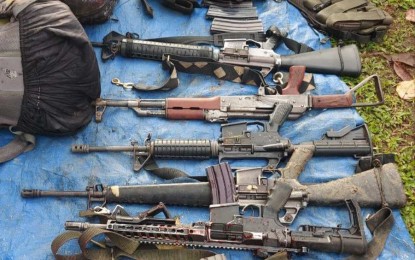 MANILA – Five communist rebels were killed in a clash with government forces in the province of Masbate on Thursday morning.
In a statement Friday, Armed Forces of the Philippines (AFP) public affairs office chief Col. Jorry Baclor said the clash took place in Barangay Guiom in Cawayan town.
Baclor said troops of the 2nd Infantry Battalion, under the Philippine Army's 9th Infantry Division (9ID), were patrolling the area after receiving reports on the presence of NPA insurgents, when they encountered about 20 rebels who fired at them.
"The 20-minute encounter resulted in five CNTs (Communist-NPA-Terrorists) killed, four captured, including a wounded member, and six high-powered firearms recovered. There were no casualties on the side of the AFP," Baclor said.
In an interview on Friday, Capt. Frank Roldan, 9th Infantry Division Public Affairs Office (DPAO), identified the five NPA members who were killed as Rufino Alba alias "Kaloy," the commanding officer of Platoon 1 (PN1), Larangan 2(L2) Komite ng probinsiya 4(KP4); Biroc Noynay alias "Marjon," Jerome Sabang, Patrocenio Aton and Reneboy Versaga; all members of PN1,L2,KP4.
Injured was Jimuel Naraja alias "Anghe"l/"Highblood" while the names of the three others captured were withheld for the meantime by the military.
Seized during the encounter were high-powered firearms that include one AK47, five M16 rifles and other propaganda materials.
Roldan said no one was hurt from the government side.
Meanwhile, 9ID commander Maj. Gen. Adonis Bajao said with this accomplishment, the AFP is inching closer to ending the communist threat in the province.
Bajao, however, said he is "saddened by this kind of incident."
"We cannot disregard the threat of terrorism that affects our community. Hence, we continue to call on the members of the CTGs (communist terrorist groups) and encourage them to surrender so that they can be with their loved ones and live a peaceful life," he said. (With a report from Connie Calipay/PNA)