By Nef Luczon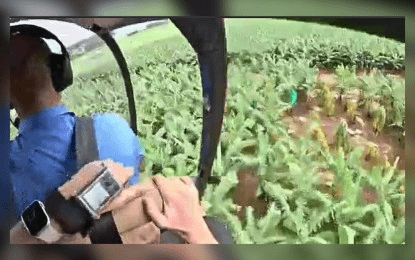 CAGAYAN DE ORO CITY – Two pilots and three passengers survived a helicopter crash in Lantapan town, Bukidnon province on Thursday.
An initial report from the Lantapan Fire Station on Friday, however, said one passenger was injured. He was identified as Carmelo Paras.
Aside from Paras and pilot Jared Hoewing, three others were also aboard the Philippine Adventist Medical Aviation Services (PAMAS) helicopter. They were identified as Daria Kiayn, also a foreigner, Alan Martinez, and Gary Soria.
The BFP personnel, together with responders from the Municipal Disaster Risk Management Office of the local government immediately acted when the helicopter crashed around 10 a.m. at a banana plantation in the town's Sitio Babahagon.
In the report, Paras sustained injuries in the shoulder and left leg and could not stand.
In a statement, PAMAS said Hoewing was piloting at around 3,000 feet altitude when the helicopter began losing power and had to do an emergency landing.
"As we consider this incident, we want to praise God for his goodness in sparing the lives of all on board. We trust that the Lord will continue to hold this ministry in his hand," the group said.
An investigation into the incident is ongoing. (PNA)