By Benjamin Pulta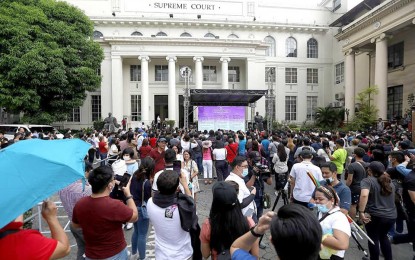 MANILA/LAOAG – The Supreme Court on Friday announced 3,992 out of 9,183 hurdled the Bar examinations held in November last year — a passing rate of 43.47 percent.
Students from the University of the Philippines obtained the five highest grades, with Czar Matthew Gerard Torres placing first with 88.80, followed by Erickson Mariñas (88.76), Christiane Claire Cregencia (87.96), Andrea Jasmine Yu (87.77) and Kim Gia Gatapia (87.42).
University of San Carlos-Cebu's Gabriel Baes placed 6th at 87.25, followed by San Beda College Alabang's Luigi Nico Reyes, 7th, at 87.19.
Two other USC examinees placed 26th and 27th.
Other UP graduates in the top 30 are Jayvy Gamboa (13th, 86.77), Luis Gabriel Perez (17th, 86.55), Joji Mari Salaver (23rd, 86.24), Aaron Daryl Marquez (28th, 86.01), and Patricia Marie Ignacio (30th, 86.0).
Ateneo De Manila University graduates occupied the 8th to 11th, 16th, 21st, 24th, 29th and 30th positions while Ateneo de Zamboanga's Ar-rashid Taradji placed 14th at 86.68.
Also on the topnotchers' list are one graduate each from Mariano Marcos State University (MMSU), Ilocos Norte, 12th; St. Louis University, Baguio City, 18th; University of Santo Tomas, Manila, 19th; Arellano University, Manila, 20th; Manuel L. Quezon University, Manila, 22nd; and Angeles University Foundation, Pampanga, 25th.
John Rey Saavedra, the Philippine News Agency's Visayas Bureau reporter who is based in Cebu City, also passed the Bar.
Ateneo De Manila was the top performing school out of the 11 with at least 100 examinees (178 passers out of 184) and San Beda University was No. 1 among the 11 with first-time takers (161 passers of 165).
Associate Justice and Bar 2022 chair Alfredo Benjamin Caguioa announced the results.
The oath-taking of the successful examinees will be at the Philippine International Convention Center in Pasay City on May 2.
For the second time, the Bar went digital using laptops with an exclusive program, instead of the traditional pen and paper, and administered the exams in multiple testing sites nationwide.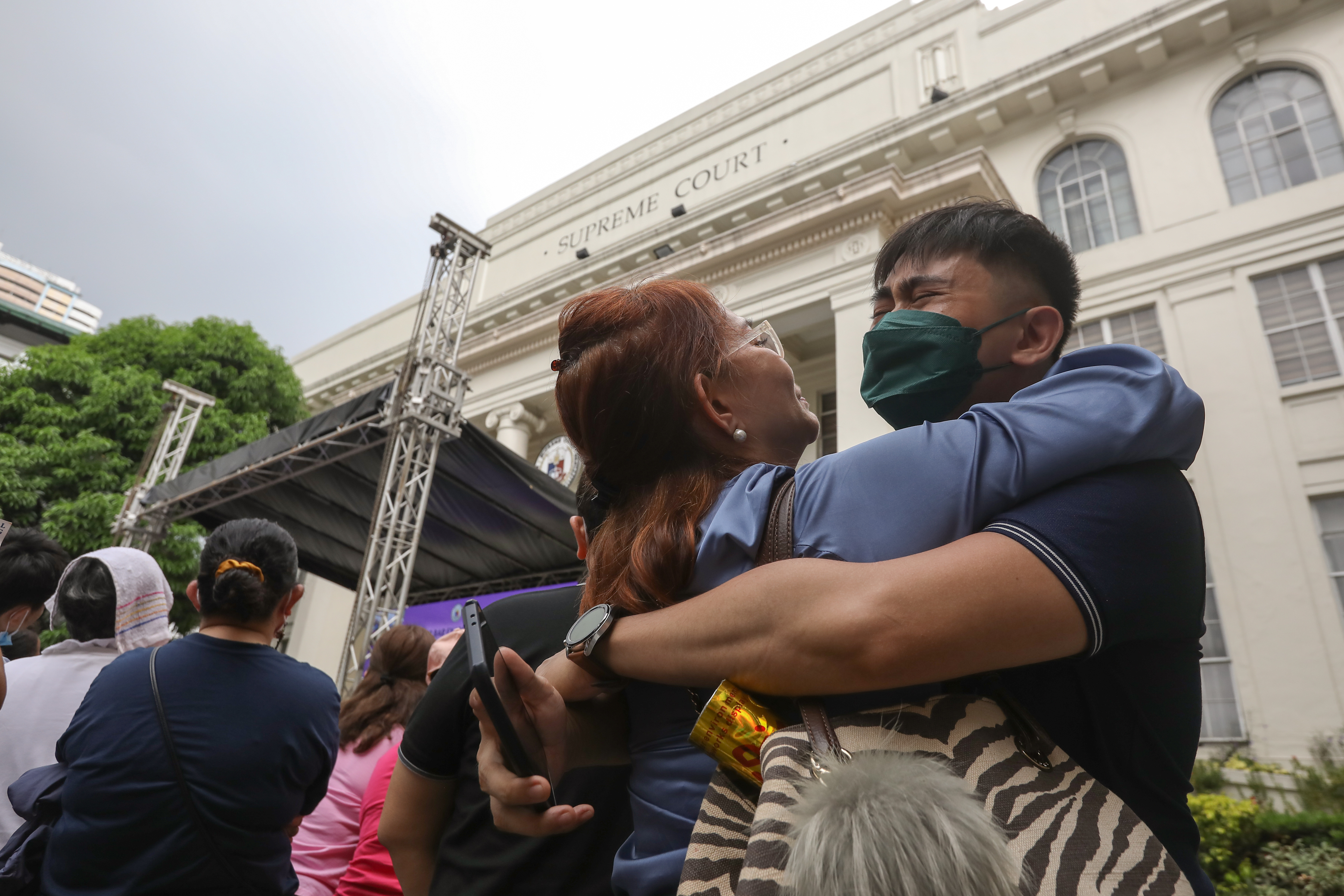 Ilocos Norte topnotcher
Twelfth placer Jether Kakilala Corpuz from MMSU, a public law school graduate from Ilocos Norte and a former information technology instructor at the AIE College, got a grade of 86.75 percent.
He was among the nine passers out of the 12 takers of the MMSU-College of Law in Batac City, Ilocos Norte.
Other new lawyers from the MMSU are Atty. Stephanie Mei Cabello, Atty. Fleurdeliz Credo-Taylan, Atty. Jether Corpuz, Atty. Vwxyz Dascil, Atty. Febelyn Digap-Tebes, Atty. John Mark Leano, Atty. Rian Vincent Nebab, Atty. Jem Krisna Minette Oducayen, and Atty. Justine Precious Taggaoa-Biado.
Of the top-performing law schools in the country, MMSU ranked fifth, garnering an institutional passing rate of 75 percent with 1-10 first-time takers.
Delighted with the results, MMSU President Shirley Agrupis on Friday congratulated the new Bar exam passers and their families.
She also expressed gratitude to the faculty of the College of Law led by its dean, Atty. Brian Jay Corpuz, for equipping and producing practice- and bar-ready graduates.
"Indeed, this feat only proves that MMSU is sustaining its stature as one of the best law schools in the country," Agrupis said.
MMSU first posted a 100-percent passing rate in the 2020-2021 Bar Examinations and placed first in the roster of top-performing law schools with 11-50 examinees.
Two of its graduates were also hailed as exemplary performers. The university also emerged as a top-performing law school in 2018 and 2019.
Meanwhile, a local radio station manager of DZJC Aksyon Radyo Laoag Nick Natividad Malasig II, who never gave up on his dream to become a lawyer after failing in previous bar exams, finally did it in the 2022 test.
Malasig, also the newly-elected vice president of the Ilocos Norte Electric Cooperative Board of Directors, was among the lucky 13 passers of the privately-run Northwestern University in Laoag City.
Help workers, underprivileged
Meanwhile, a labor group encouraged the country's new lawyers to take inspiration from people who took time to help workers and the underprivileged.
In a statement, the Federation of Free Workers (FFW) said the new breed of lawyers should use their profession in fostering societal reforms.
"As you embark on your legal career, always keep in mind the importance of serving the workers and the downtrodden. Take inspiration from leaders like Marvic Leonen, Lee Kuan Yew, Tony Blair, and Barack Obama, who started as lawyers representing the underprivileged and went on to become influential figures in their countries, making a positive difference in the lives of ordinary people," the group said.
"As a lawyer, you have the power to effect change and make a real impact on society. Use your skills and knowledge to advocate for those who need it most and strive to create a more just and equitable world," it added.
The FFW is also hoping that they will also serve employees with problems with their employers.
"Equally, we encourage you to represent pro-bono those workers who were illegally terminated before the arbitration branch of the National Labor Relations Commission (NLRC). As lawyers, it is our duty to ensure that the rights of workers are protected, their correct wages and benefits are given and that they receive the justice they deserve," the organization added.
"To all the new lawyers, welcome to the legal profession, and we hope to see you in court soon, serving as counsel for the defense or prosecution, for the petitioner or defendant, and helping to bring justice to society. Congratulations and best of luck on your new journey," it said.
The group also wished better luck to those who did not pass the exams this year.
"Take inspiration from the likes of Claro M. Recto, Leni Robredo, Michelle Obama, or Hillary Clinton, who failed once, but eventually succeeded in their legal careers. Use this experience to learn, grow, and come back even stronger in the future. You have what it takes, and with perseverance and determination, you can achieve your goals," it added. (with Leilanie Adriano and Ferdinand Patinio/PNA)