By Leonel Abasola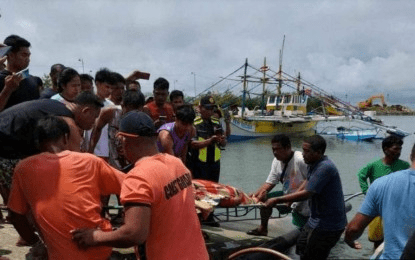 MANILA – Three Filipino fisherfolk died in a maritime incident off the waters of Bajo de Masinloc (BDM) in the West Philippine Sea, the Philippine Coast Guard (PCG) reported on Wednesday.
In a Facebook post, the PCG said the incident occurred at 4:20 a.m. Monday after an unidentified foreign commercial vessel rammed the Filipino fishing boat identified as FFB Dearyn while it was transiting in the vicinity of BDM.
It added that the mother boat sank resulting in the death of three fisherfolk, including the boat captain.
The mother boat was moored to a payao or anchored fish float 85 nautical miles northwest of the BDM.
The PCG report also said 11 crew members survived and used their service boats to leave the vicinity waters and transport the deceased victims to Barangay Cato in Infanta, Pangasinan.
The survivors arrived in the area at 10 a.m. Tuesday and reported the incident to the nearest Coast Guard substation for necessary assistance..
Meantime, coordination has been made with the local government of Subic in Zambales for the return of 11 survivors of the maritime collision at the Bajo de Masinloc (BDM) on Oct. 2.

In an interview on Wednesday, Infanta Police investigator Master Sgt. Leo Montola said they have coordinated with the local government unit to pick up the survivors from Infanta since the Philippine Coast Guard (PCG) in Pangasinan gave them permission to go home and transport their three dead colleagues.

The deceased crew members included Dexter Laundensia, 40, boat captain; Romeo Mejico, 38; and Benedick Uladandria, 62.

The survivors, all residents of Barangay Calapandayan, Subic, Zambales, were brought to the Infanta Rural Health Unit for a medical check-up and assessment on Wednesday. (With a report from Hilda Austria) (PNA)